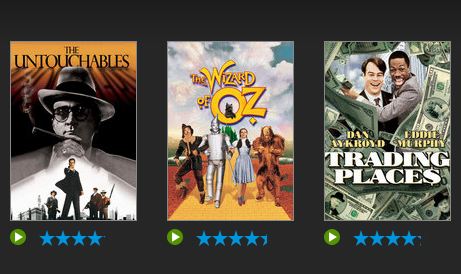 Cloud week continues. SkyDrive by Microsoft kicked off the race for your bits on Monday. That was followed by Google Drive, a re-brand of Docs and a platform play aimed at taking down Dropbox, Box and others. Now Vudu wants your Blu-Rays and DVDs… in the cloud. Why not, we seemingly store just about everything in virtual hard drives located in data centers across the world.
The "disc to digital" service is not quite as easy as the aforementioned storage services. With this one you'll actually need to get in your car. Yes, this cloud has highways. How ironic is that we used to drive to chains like Blockbuster to pick up rentals, and years later we're driving back to drop them off?
VHS to DVD 2.0 with a violet twist
Here's how it works. You sign-up for Vudu – my favorite service for renting HD films via the PS3 – make an online list of films to move to the cloud, then grab a bunch of your discs and head over to Walmart (of all places). There you will pay $2 for SD DVDs and $5 for HD Blu-Rays to have them stored in your own personal movie locker. Once in the cloud you can view them on an iPad, computer, PS3, XBOX360. Further, if you want to upgrade picture quality on that beloved copy of Wizard of Oz or The Godfather you can do that do (to HDX as Vudu labels it, or 1080p) though it's not clear to me the cost.
The system is based on UltraViolet, a new standard for tracking your movie purchases so that you can access them digitally. Not all titles will be available yet. Studios currently participating include Paramount, Sony Pictures, Twentieth Century Fox, Universal and Warner Bros. Sadly, selection in the Dario Argent department is completely absent. No trips to the cloud for Suspiria (5 out of 5), Opera (4/5), Tenebrae (4/5), or Deep Red (4.5/5). Thankfully, David Lynch's 2001 masterpiece Mulholland Drive is among the thousands of titles on offer.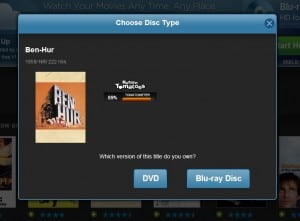 Technically it looks like they don't actually rip your specific disk. More likely I suspect Vudu will simply give you access to the films they already have stored on their servers used to stream rentals. Quite a nice money maker. No additional effort required on that front; rather, most of the work involved here is based on striking licensing deals. So, no, that DVD of your Vegas shindig won't be streaming via Vudu anytime soon (it'll go viral, like it or not, on YouTube).
While not directly comparable to Netflix who offers a flat monthly rental program for streaming content, it's not hard to see where Vudu is going with this initiative.