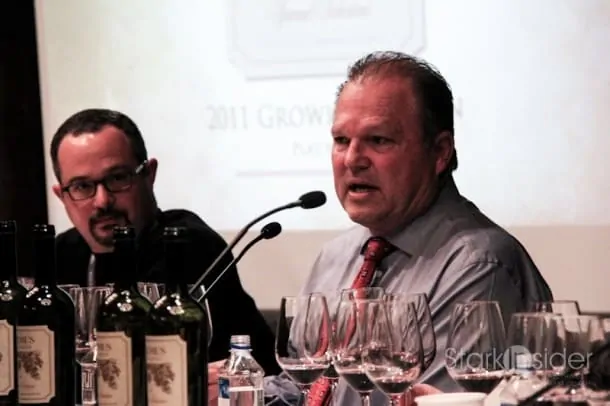 Quick tip: If you ever get invited to a Caymus retrospective tasting, drop everything you're doing, brush your teeth with a dollop of anticipation, and brace yourself for a mind-numbing exercise in evaluating/tasting/reviewing wines that are scored on a narrow spectrum of greatness.
They talk about the "Wagner Dynasty," and experiencing it first hand – 8 vintages, 90 minutes – demonstrated to me why it's a Napa story not soon forgotten.
Such was the scene at the Pebble Beach Food & Wine this weekend.
We were invited to attend a vintage tasting moderated by Jon Bonne of the San Francisco Chronicle and grand poo-bah (along with Steve Heimoff of Wine Enthusiast) of all things wine here on the west coast, and featuring wine legend Chuck Wagner, and Master Somms Jay James and Chris Blanchard.
After popping by the Grand Tasting for lunch and shooting some segments for Stark Insider TV, we headed up 17 mile drive to the Inn at Spanish Bay. That it was a glorious coastal day didn't exactly hurt our frames of mind. Caymus, located in Rutherford, is the only winery to ever receive the vaunted Wine Spectator Wine of the Year award twice (1984, 1990).
Don't get me wrong, I was definitely not blinded by science… or in this case, pedigree.
I know how these things go. Wine is wine. Marketing is marketing. When I attend these types of tastings, I go deep (or try!) into my Miles-inspired zone of semi-confused ambivalence. 5 generations? Yep – heard that one before. "Dynasty"? Okay –  bad show, but I get it. "Special Selection"? Sure – sounds better than the not-so-special selection I suppose.
Somehow, someway I must attempt to leave all preconception at the door. I admit it's not easy and I'm just as imperfect as the next spitter. This was obviously not a blind tasting, so if you suggested my judgment was already tainted I truthfully submit I could not deny that – but who could?!
Fortunately the room itself was staid. Just a basic conference room. Last year we tasted through To Kalon wines with Tor and others. With the soaring ceilings of the Mondavi dining area, and views of the valley and To Kalon vineyards extending for miles just beyond the expansive glass, it can be hard not to get the warm fuzzy. Ditto that with the four decade Robert Mondavi tasting with winemaker Genevieve Janssens that followed. Luckily today's views – at least here inside this boring beige meeting room – would not distract.
In front of us, pours of Caymus Special Selection Cabernet: '90, '94, '97, '99, '02, '04, '05, '09.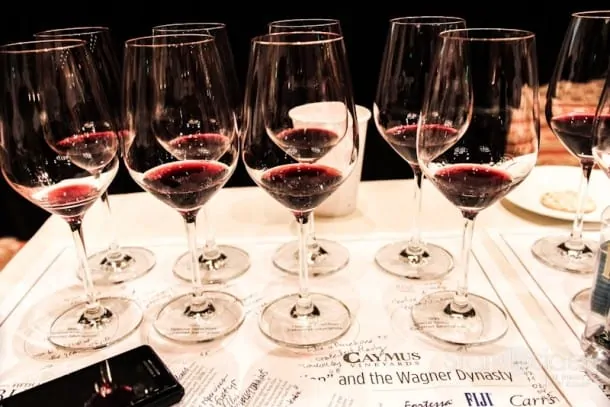 By the numbers, Caymus, which was founded in 1971 (though their wine making efforts date back to pre-prohibition), is no doubt a commercial enterprise and anything but boutique: 100K cases annually (75% yellow label, 25% special selection), 1,300 acres of vines across California.
Jon Bonne, as if his being zapped by sonic temporal moon beams from every wine blogger just this side of the WordPress fault line, was quick to note these scores were "snapshots in time."
But as Chuck tells us, he's pleased his children, Charlie II, Joseph and Jenny, are following in the trail he and his father blazed four decades earlier. Yes, the numbers might be bigger, but you can't help but feel Chuck is an extremely hands-on perfectionist – note how he takes particular pride in some of the canopy management techniques Caymus pioneered.
"We all believe we're better farmers than our neighbors."
Here's the thing. Generally, the more successful the entrepreneur or celebrity, the more humble, the more comfortable-in-his-own-shoes the personality. And so it goes with Chuck Wagner. I wouldn't mistake that for a sec with confidence in ability, and even swagger, but young "rockstar" winemakers should take note. All of these wines received well over 90 points from WS and other publications. The lowest, the spectacular 2002, received "only" 93 points. Yet, it took a question from a participant to get a run down of the scores – to which, it's worth noting, Wagner was able to recite with military precision. Jon Bonne, as if his being zapped by sonic temporal moon beams from every wine blogger just this side of the WordPress faultline, was quick to note these were "snapshots in time." The important consideration of these eight Caymus Cabs was the quality, the character, and, as were about to discover, the evolution of their flavor profiles over time.
Message in a Bottle…
1990 Special Selection Cabernet Sauvignon, Napa
Twenty two years on this what the panel was framing as "aromatic" or "perfumed." That probably has a lot to do with (a) lower quality fruit (as Wagner admits) and (b) the substantial softening of the tannins. In my estimation not a food wine, but a magnificent wine nonetheless.
1994 Special Selection Cabernet Sauvignon, Napa
Smooth, balanced. Also aromatic, possibly past its prime. A slightly lesser great among greats.
1997 Special Selection Cabernet Sauvignon, Napa
A Hot vintage and Cab, as Wagner points out, "likes a little bit of heat." For five months the average high in Napa was over 90F. "Like a racehorse," he says, "It started off flashy." But would it last? Apparently the answer is: uhh, yes. A wonder in the glass, deep garnet, slightly browned. Long, smooth finish, and, in my estimation, perfect. My favorite of the day (but again, I'm splitting hairs).
1999 Special Selection Cabernet Sauvignon, Napa
Spicy, with more tannins, and, on the nose, bright notes. Deep red fruit. Just lush, lush, lush. Especially suitable for food.
2002 Special Selection Cabernet Sauvignon, Napa
Uh-oh. Get your controversy on. This was the first vintage Wagner boosted the alcohol content. This year it reached about 15%. Is that a good thing? According to Wagner, "If you can detect strong alcohol component that's not good," but on the other hand, as he explains, if the overall balance is there, and the fruit is balanced along with "texture" then it's a good thing.
2004 Special Selection Cabernet Sauvignon, Napa
Thick, expressive. Another stellar wine. As we move along the vintages we get more fruit, and I definitely notice the so-called "structure" – which is typically the prevalence of more tannins, and the fact that the wines are younger.
2005
Many in the room preferred the younger wines such as these last two vintages. On this day, it became evident our reactions were less about quality of the wine (beyond reproach) and more about our personal preferences and palates. Do you like the perfume nature of the older bottles? Or do you like bold fruits, lots of structure? I would buy this '05 and open it in 3-5 years for a special occasion with friends and family.
2009 Special Selection Cabernet Sauvignon, Napa
After tasting the previous 7 vintages, it was only by comparison that I'd say this one was too young, too hip. If I didn't have the benefit of tasting side-by-side with its siblings and instead popped this one on its own, my reaction may well have been entirely different. Yes, context matters. In my view, you want to cellar this one up.
 A favorite among favorites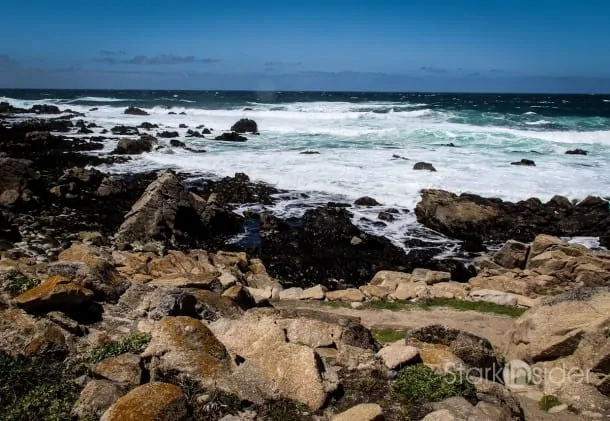 The 1997 was my top pick. Followed closely by 1999. I cringe, though, thinking back to that specific time and place.
Silicon Valley, the Cisco version, was white hot.
Red Herring, the most ad-heavy tech magazine of all time, was telling us every IPO was red hot.
And there were vast, flowing fountains of chocolates, endless after-after tech parties, as we all hailed "Economy 2.0." Instead of burning through that BMW (3-series ftw), that Jag (horrible build quality), that 911 (supreme), I should've been investing in Caymus (and Prius). We have some in our cellar now, having bought a bottle here and there over the years, careful to try to keep a continuous vertical going. But on a day like this at the PBFW we were treated to an outright wine luxury. It's not often you have something in the order of $3-5K of win sitting in front of you. Money is far from the point, I tell myself over and over, but it's hard not to think about when you're popping open a Caymus Selection. My suggestion would be to stoke your inner Jimmy Dean, and "Dream as if you'll live forever.  Live as if you'll die today."