The Berkeley Rep has announced a colorful, and compelling mix of new plays for its 2012-13 season.
Featuring the works of artist who have received nine Obie Awards and three Tony Awards collectively (David Henry Hwang, Denis O'Hare, Lisa Peterson, Leigh Silverman, Mark Wing-Davey, and Mary Zimmerman), features 7 total productions; 5 main season and 2 limited season. All performances are scheduled for the Roda and Thrust stages in downtown Berkeley.
Kicking off in August, the season begins with the West Coast premiere of Chinglish, the Broadway comedy written by Hwang and staged by Silverman.
Zimmerman then gives the Bay Area a beautiful gift for the holidays with The White Snake, before Bard returns in Wing-Davey's production of Pericles, Prince of Tyre.
more STARK Arts&Culture

San Francisco Bay Area Theater gets social with Twitter (plus: who to follow)
The Limited Season features Peterson and O'Hare's visceral new version of An Iliad alongside the exuberant world premiere of LeFranc's Troublemaker, or The Freakin Kick-A Adventures of Bradley Boatright.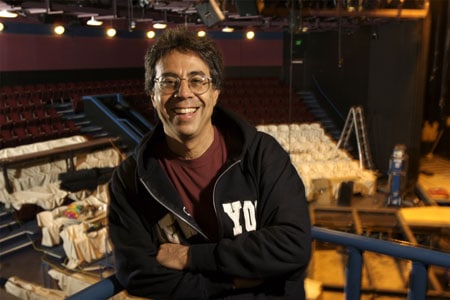 "Berkeley Rep always tries to wed passionate artists with potent stories to create work that is invigorating, entertaining, and challenging," said Tony Taccone, Berkeley Rep's artistic director. "This season is no different. We're delighted to welcome back distinguished directors like Mark, Mary, Lisa, and Leigh, each of whom has had remarkable success since last we met. We're excited by the range of writers as well: I'm pleased to bring David back to the Bay Area, and it's been quite some time since Shakespeare was seen on our stage. As for Dan LeFranc, he's got real talent and is about to have a breakout year. Whatever we're exploring, Berkeley Rep strives to go beyond entertainment and tap into our shared humanity. Theatre is a communal act that relies on this kind of connection. It relies on inquisitive artists, on our dedicated staff and volunteers, and on our curious, adventurous audience."
Berkeley Repertory Theatre 2012-13 Season Schedule

CHINGLISH

Main Season Play #1 – Roda Theatre
West Coast premiere
Written by David Henry Hwang
Directed by Leigh Silverman
August 24 – October 7, 2012
Opening night: August 29, 2012

AN ILIAD

Limited Season Play #1 – Thrust Stage
Adapted from Homer
By Lisa Peterson & Denis O'Hare

Translation by Robert Fagles
Directed by Lisa Peterson
October 12 – November 25, 2012
Opening night: October 17, 2012

THE WHITE SNAKE

Main Season Play #2 – Roda Theatre
Written and directed by Mary Zimmerman
November 9 – December 23, 2012
Opening night: November 14, 2012

TROUBLEMAKER, or The Freakin Kick-A Adventures of Bradley Boatright

Limited Season Play #2 – Thrust Stage
World premiere
Written by Dan LeFranc
January 4 – February 3, 2013
Opening night: January 9, 2013

TO BE ANNOUNCED

Main Season Play #3 – Roda Theatre

PERICLES, PRINCE OF TYRE

Main Season Play #4 – Thrust Stage
Written by William Shakespeare
Directed by Mark Wing-Davey
April 12 – May 26, 2013
Opening night: April 17, 2013

TO BE ANNOUNCED

Main Season Play #5 – Roda Theatre