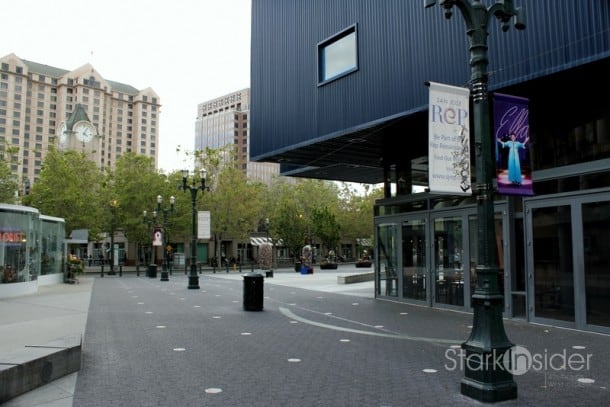 San Jose Rep's Artistic Director Rick Lombardo has announced San Jose Repertory Theatre's 2012-2013 season, with seven productions starting August 30, 2012 to July 14, 2013.
The season will include two major Broadway hits, a World premiere, and several Bay Area premieres.
The shows will likely appeal to an especially wide range of audiences, with drama, alternative-rock, comedy, and challenging and relevant themes.
Lombardo, who will direct several of the upcoming season's productions, said: "This season, so far, has exceeded our audiences' expectations. They've been loving the smart, muscular, and touching plays we've been presenting and our audience can be sure to expect more of that in the upcoming season. In 2012-2013, we're serving up the mysteries of the creative process, the intersection of faith and psychoanalysis, a suburban family's odyssey told as a rock musical, and a musical version of a classic Shaw play It is going to be quite a ride!"
The season begins with the world premiere of The Death of the Novel by Jonathan Marc Feldman and directed by Rick Lombardo. A brilliant young novelist, coping with great personal loss in the aftermath of 9/11, goes into seclusion in his Manhattan apartment, refusing to write again. A mysterious and beautiful stranger intrudes, telling incredible stories of her own. Is she yet another fan of his work, or is she something else entirely? This play is about finding the tenacity to thrive in a dangerous, unpredictable world, and to create again.
Next up will be Bay Area premiere of Freud's Last Session by Mark St. Germain. In this co-production with the Arizona Theatre Company, legendary psychoanalyst, Dr. Sigmund Freud, invites a young, little-known professor, C.S. Lewis, to his home in London. Lewis, expecting to be called on the carpet for satirizing Freud in a recent book, soon realizes Freud has a greater agenda. On the day that England enters World War II, Freud and Lewis clash over the issues of love, sex, the existence of God, and the meaning of life – only two weeks before Freud chooses to end his own life.
For the holiday season and back by popular demand, Lombardo directs his original adaptation of the Charles Dickens classic, A Christmas Carol. This timeless holiday story is a feast for the senses, full of traditional Victorian carols, lavish period costumes, and actors playing more than a dozen traditional instruments. Follow Scrooge on his transformational journey to rejoin the world, find redemption, and discover what it means to be fully human.
More Stark Insider
San Jose Rep will kick off the New Year with a second co-production with the Arizona Theatre Company, the Tony Award-winning musical, Next to Normal, with book and lyrics by Brian Yorke and music by Tom Kitt. Featuring a thrilling contemporary score, the production is an emotional powerhouse of a musical about a mother attempting to cope with her growing mental illness and its impact on her family. This intense and hopeful story follows a suburban family as they come to terms with their past and bravely face their future. Hailed for its accuracy and empathy, Next to Normal won the 2010 Pulitzer Prize for Drama, as well as three Tony Awards including Best Score.
TBA: For the March 21 – April 14, 2013 slot, San Jose Rep's talented artistic members told us they are working hard to procure the right show to finalize their 2012-2013 season.
In the spring, San Jose Rep will present the Bay Area premiere of Next Fall by Geoffrey Nauffts. They say opposites attract, which must be the case for Adam and Luke, who have successfully navigated a committed relationship for five years, despite the fact that Adam is a responsible but neurotic atheist, while Luke is an impulsive, underemployed actor, and a devout Christian. When a sudden, tragic accident befalls Luke, these longtime differences rise to the surface as family and friends confront each other and attempt to overcome their own differences as they struggle to find answers – together.
The season will close with a salute to one of the heroes of the English-speaking theatre, George Bernard Shaw. A Minister's Wife, a musical conceived and directed by Michael Halberstam, is based on Shaw's Candida. This West Coast premiere is set in London in the swirl of a love triangle among energetic, admired Socialist clergyman, Reverend James Morell, his strong-willed and beautiful wife, Candida, and an idealistic young poet, Eugene Marchbanks, who, infatuated with Candida, aims to win her love.
San Jose Repertory Theatre 2012-2013 Season

1. THE DEATH OF THE NOVEL

AUG 30 – SEP 23, 2012
by Jonathan Marc Feldman
directed by Rick Lombardo

2. FREUD'S LAST SESSION

OCT 11 – NOV 4, 2012
by Mark St. Germain
suggested by The Question of God by Dr. Armand M. Nicholi, Jr.
directed by Stephen Wrentmore
co-production with the Arizona Theatre Company

3. A CHRISTMAS CAROL

NOV 21 – DEC 23, 2012
by Charles Dickens
adapted for the stage & directed by Rick Lombardo
original music by Anna Lackaff & Rick Lombardo

4. NEXT TO NORMAL

JAN 10 – FEB 3, 2013
book and lyrics by Brian Yorkey
music by Tom Kitt
directed by David Ira Goldstein
co-production with the Arizona Theatre Company

5. TBA

MAR 21 – APR 14, 2013

6. NEXT FALL

MAY 9 – JUNE 2, 2013
by Geoffrey Nauffts

7. A MINISTER'S WIFE

JUNE 20 – JULY 14, 2013
book by Austin Pendleton
music by Joshua Schmidt
lyrics by Jan Levy Tranen
based on Candida by George Bernard Shaw
conceived and directed by Michael Halberstam