According to a new report, Android leads the smartphone market with 48% share. Apple is 6 points behind. Other vendors such as Microsoft and RIM account for the remaining 10%.
Apple, however, continues to lead as the number one maker of handsets. The top five selling handsets in Q4 were the Apple iPhone 4S, Apple iPhone 4, Apple iPhone 3GS, Samsung GALAXY S II, and Samsung GALAXY S 4G.
One interesting find is that among new smartphone buyers, Android is preferred by almost 6 out of 10 buyers.
"Android has been criticized for offering a more complex user experience than its competitors, but the company's wide carrier support and large app selection is appealing to new smartphone customers," said Ross Rubin, executive director, Connected Intelligence for The NPD Group. "Android's support of LTE at Verizon has also made it the exclusive choice for customers who want to take advantage of that carrier's fastest network."
Fragmentation — the proliferation of the variations of the Android operating system combined with a growing number of device types — has been an increasing concern among those that follow the mobile markets (Android Fragmentation – What, Google Worry?). To date, however, the issue has not slowed Google's continued dominance in the space.
In Q4 2011, Apple released the iPhone 4S, and Samsung the Galaxy Nexus. Both received positive reviews.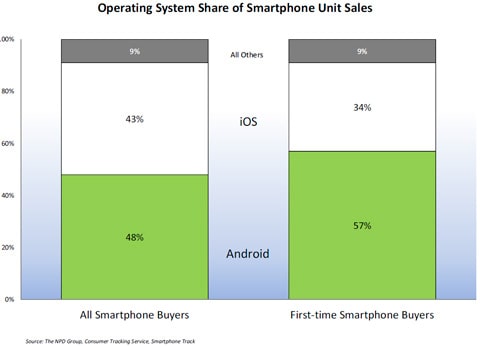 Many expect an iPhone 5 launch this summer. Meanwhile new Androids, possibly including quad-core models, could make appearances at the upcoming Mobile World Congress in Barcelona.