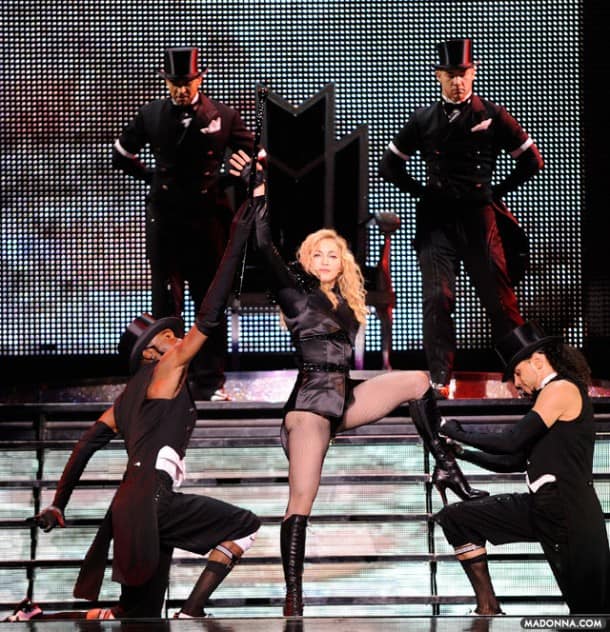 Madge alert! Fresh off her well received Super Bowl halftime performance, Madonna will make an appearance in San Jose as her world tour – "a huge party" – swings into town.
The Madonna 2012 World begins May 29th 2012 in Tel Aviv, Israel it was officially announced by Live Nation Entertainment, the tour's international promoter. The shows will include arenas, stadiums and special outdoor sights including the Plains of Abraham in Quebec and a return visit to South America as well as Australia where she has not performed in 20 years. The tour will stop in 26 European cities including London, Paris, Milan and Berlin.
San Francisco Bay Area fans, mark your calendars for October 6 at HP Pavilion at San Jose.
Madonna's previous tour, the phenomenally successful "Sticky & Sweet" Tour reaffirmed her status as one of the most successful touring artists of all time. The historic tour included such incredible touring feats as a 70,000 seat sell-out in Werchter, Belgium, an 85,000 sell-out in Helsinki (the largest show ever in the Nordic countries by a solo artist), a 40,000 ticket sell-out in Oslo, Norway, and 72,000 tickets sold out in one day in Tallinn Estonia. Other record breaking ticket sales around the globe include 650,000 tickets sold in her series of South American dates, 72,000 tickets at Zurich's Dübendorf Airfield – the largest audience ever assembled for a show in Switzerland, 75,000 tickets in London and four sell outs in New York's Madison Square Garden (60,364 tickets).
WATCH: Give Me All Your Luvin' (Feat. M.I.A. and Nicki Minaj)
Last week saw the release of Madonna's new single, "Give Me All Your Luvin" from her highly anticipated new album MDNA scheduled to be released on March 26th. The single's video directed by Megaforce which also stars Nicki Minaj and MIA previewed on American Idol. Additionally, the Madonna directed Golden Globe Award winning film "W.E." opened in NY and LA with other markets to follow later in the month.
In the course of her career, Madonna has a record breaking 37 Top 10 hits on Billboard's Hot 100 Singles Chart along with a record breaking 40 Number 1's on Billboard's Dance/Club Play Song Charts. No other act has more Top 10's on the Hot 100 or Number 1's on the Club Chart. Madonna has sold over 300 million albums and holds the record for the most successful tour by a solo artist in history. She is a seven time Grammy winning singer, songwriter, producer and Rock & Roll Hall of Fame inductee. Her last CD "Hard Candy," debuted at Number 1 in 37 countries including US, UK, Canada, France and Australia. Madonna 2012 World Tour is the Material Girl's 9th Tour. Her first tour was the l985 Virgin Tour.