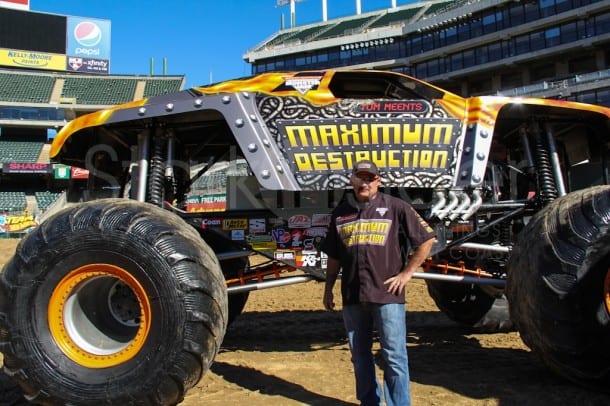 Despite my unimaginative headline, we've got quite a bit cooking here on SI.
Later this week, we head up to the hugely anticipated Premiere Napa Valley. Expect mucho tasting, auction action, and plenty of tales from the barrel (wait, does that make sense?). The event can be a leading indicator of sorts in assessing the market conditions for the wine industry overall, and especially the secondary markets. You can follow my #NPV12 tweets here, but please tell me you like Android — you may not like my take on all things iPhone.
But what's monster trucks got to do with fine wine? More on that in a sec.
We've got a couple of stories (along with Stark Insider TV segments) we're cooking up that involve some very Presidential content; how appropriate, no?
Winery marketing and PR teams are no doubt burning the midnight oil. Over the past few months (yes, months) we've been receiving a crazy number of emails inviting us to this media event, to that live concert, to that behind-the-scenes barrel tasting, etc. etc. I actually don't remember any wine event – or any event for that matter – in recent memory generating this much inbox action. It's thrown our calendaring for a loop. We like to keep a 30-60-90 view into SI events, especially the video shoots because of the equipment, paperwork, and details required to bring everything together. But, man with NPV is Napa ready to throw a party or what?! Short of a personal jet pack, I'm not sure how we're going to scoot from one schmoozer to the next.
Then I read about the Palo Alto real estate market.
It's heating up. Not that it ever really cools in Palo Alto. It's a desirable location. Next to Stanford, gorgeous trees line the streets among upscale, but certainly not ostentatious (for the most part) homes. Some of my favorite restaurants are here – Zibibbo, Evvia, La Bodeguita del Medio (cool smoking lounge). The Facebook IPO is reportedly already partly responsible for driving up prices. No surprise there. Come with cash, though, and be ready for some bidding wars – yep, it's oh-so 2006. Examples: $1.1M for 1,100 sq ft 3 bedroom., $1.2M 1,400 sq ft. Don't expect your offer to be accepted unless its contingency free.
Between the buzz around Premiere Napa Valley (and I think this could be the event's biggest ever result), the strong job market (at least here in the SF Bay Area), and the upward swing in real estate, you get a sense that things are looking, if not all roses and peaches, at least a tad brighter in 2012.
Monster Trucks!
Oh, yes, I've got a couple of projects in the works with Team Stark. Have Canon EOS 60D will travel. One is with Disney on Ice. They're always fun to work with. The other involves monster trucks. You should see the waivers for that one. I don't want to spill the beans, so tune in soon y'all for some maximum destruction and crazy stunt work by Loni.
Monster trucks and fine wine. Sure, I'm always game for new pairings. See you in Napa!
WATCH: How to do the Napa Dance