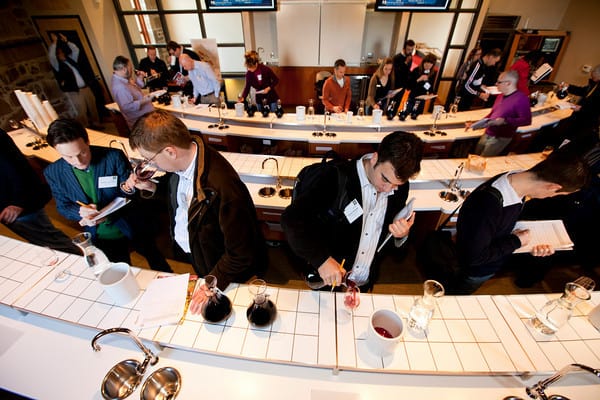 Premiere Napa Valley is the, well… premiere trade event of the year in wine country.
Last year the wine futures auction smashed records, finishing at nearly $2.4 million in sales. This year's edition takes place February 23-25 in St. Helena and features multi-vintage tastings, business panels, barrel tastings, and an auction (you can preview the 2012 wine portfolio here).
The history of Napa Valley Vintners, the 400 member non-profit that organizes the event is colorful.
In 1943, Louis M. Martini, John Daniel, Jr., Charles Forni and Louis Stralla began meeting to exchange ideas and work as a group to overcome industry obstacles and elevate the status of Napa Valley wines. More than 60 years later, that epicurean and social camaraderie has grown into a spirited partnership committed to advancing Napa Valley wines worldwide.
To give you a taste of the event, here's a highlight reel featuring some fast paced wine bidding action… look for some drama involving $100,000!
Team Stark hopes to see you there.
History of Premiere Napa Valley Results

| | | | | | | | |
| --- | --- | --- | --- | --- | --- | --- | --- |
| | 2011 | 2010 | 2009 | 2008 | 2007 | 2006 | 2005 |
| Lots Auctioned | 200 | 200 | 200 | 200 | 192 | 181 | 165 |
| Total Cases Auctioned | 1530 | 1495 | 1325 | 1265 | 1215 | 1195 | 1135 |
| Gross Revenue | $2.3M | $1.9M | $1.4M | $2.2M | $2.1M | $1.8M | $1.4M |
| Successful Bidders | 68 | 58 | 57 | 67 | 72 | 67 | 62 |
Premiere Napa Valley 2012 – Schedule of Events

Thursday, February 23

"How to Thrive in the Current Business Climate"

Professional development and networking seminar
Location TBD
10:30 am – 12 Noon
Join fellow Premiere Napa Valley attendees for a presentation, spirited discussion, and networking session featuring Spanish entrepreneur Bernardo Hernandez, former global director of emerging products for Google, and current managing director of Zagat Survey (owned by Google). Discover how industry leaders are differentiating themselves in a competitive marketplace and take home new ideas and inspiration to help your business thrive.

Friday, February 24

Multi-Vintage Perspective Tasting

Rudd Center, The Culinary Institute of America at Greystone
2555 Main Street, St. Helena
9:30 am – 12:30 pm
Drop in at your leisure for this walk-around, three-vintage perspective tasting of Napa Valley Cabernet Sauvignon and Merlot. This tasting provides a snapshot of wine coming to, already in and finishing up in the market, offering insight into how vintages may unfold with time. All are tasted blind.

Private Vintner Parties
Locations throughout the Valley

Saturday, February 25

Barrel Tasting & Auction

The Culinary Institute of America at Greystone
2555 Main Street, St. Helena

The weekend's highlight! Taste and network with owners and winemakers from 200 of Napa Valley's finest producers in the barrel room, enjoy lunch prepared by the staff and students of the Culinary Institute of America at Greystone, and then head into the auction room for the fast-paced and high-energy live auction of the 200 made-for-this-event-only wines previewed earlier in the day.

9:00 am – Registration opens
9:30 am – 12:30 pm – Barrel Tasting
11:00 am – 1:00 pm – Lunch
1:00 pm to last gavel – Live Auction