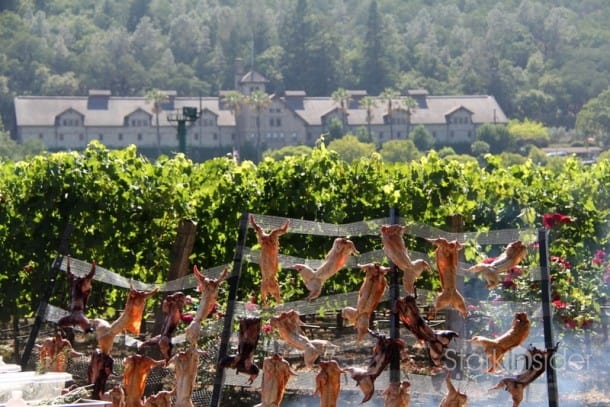 Incoming update via email from non-profit Napa Valley Vintners (NVV). The trade association representing 425 member wineries gathered for their annual general membership meeting at The Culinary Institute of America in St Helena on Tuesday, January 31st where they welcomed Georges Haushalter, President of Le Conseil Interprofessionnel du Vin de Bordeaux (CIVB) as a speaker. The CIVB is the NVV's counterpart representing the Bordeaux wine region of France.
Haushalter's presentation provided a rich historical perspective dating back to a third century Roman poet chronicling vineyards near St. Emilion to what he calls the "golden age of Claret" in the 12th century through to the state of the wine industry in Bordeaux today with its challenges and opportunities in the global market.
more STARK Napa
On export programs of interest to NVV members he said, "China is a very important and growing market for our wine in terms of export volume so we are very engaged in promotions there. And though lower overall volume is exported to Hong Kong, the market is very strong in terms of product value." He said Bordeaux's exports accounted for 37 percent of their production with leading markets being Germany, China, Belgium, the UK, Japan and the US in that order. The CIVB represents the largest appellation in France with an annual budget of about US $44 million and focuses its work on wine promotions, economic issues, research and public interest activities.
More recently, the group has put more emphasis on wine tourism and is a partner in the Great Wine Capitals Global Network (GWC) which, along with Napa Valley, is a coalition of premier wine regions. The NVV along with the other wine tourism stakeholders in Napa Valley have been at the forefront of this organization for many years. Earlier in the meeting, Napa County Supervisor Bill Dodd spoke about GWC and its importance to the Napa Valley.
"The NVV's annual general membership meeting is where we have the opportunity to report to our members the work done on behalf of the association for the year just ending, where we can recognize the vintners' hard work and officially pass the gavel from outgoing board president to incoming. This past year we were delighted to have had the insight and leadership of Kathleen Heitz Myers of Heitz Wine Cellars as our board president and she welcomed Rick Jones of Jones Family Vineyard as 2012 board president," said NVV Executive Director Linda Reiff.
She continued, "Being able to report that the Napa Valley wine industry is strong, optimism is running high for the future, and having our esteemed friend from Bordeaux share his perspective on the global wine business made for a great day."
More: Napa, wine news.