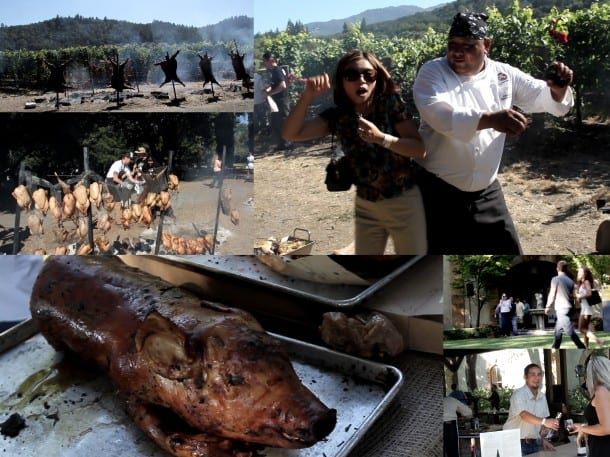 Napa was in whole hog heaven this weekend as Charles Krug Winery hosted the first ever Cochon Heritage Fire (the 2nd largest COCHON event). Hundreds came out on a beautiful, sunny day in St. Helena to get a first hand look — and taste! — of 2,000 pounds of animals.
Lamb, rabbits, pigs, goats … it was a potpourri of goodness for fans of BBQ. Loni was on a mission and in this episode of Stark Insider TV, she had a question for the chefs: what is the best part of the pig?
Loni walked around, around, around, and the flames by the vineyards went higher.
Also she talks with some of the 25 chefs, and 10 star butchers on hand to find out more about whole animal cooking.
Is there anything dangerous to be aware of? And, most importantly, how do you shake hands with someone covered in lard?
MORE: COCHON Heritage Fire Napa
The event included wood-fired whole animal theatre cooking, butcher demos, cured meats, wood-fired cheeses, hand-made sausages, heirloom vegetables, craft cheese and boutique brews.
Contributing: Clinton Stark in Napa. (Johnny Cash, ahem…)