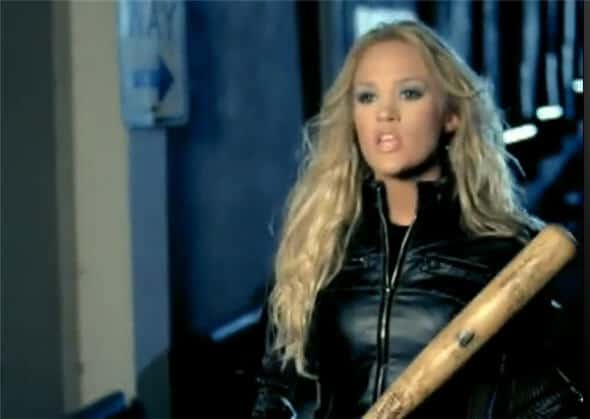 It's easy for those in love on Valentine's Day. But what about us worn-torn, broken-hearted… or those of us who enjoy life as an insanely out-of-control single? Or maybe you're just angry and want to take a Louisville slugger to some headlights?
Well, we've got some tunes for you. Here's a playlist that doesn't bite, on so many levels, and doesn't include one single Air Supply track.
No, no, no, this V-day it may be time to get your cheatin' revenge on, and hit up that bottle. He oughta' know.
What exactly am I talking about here?
more Stark Insider
Rhapsody (yes, even in this new world of Spotify, they still exist) has put together a free "anti-love" playlist for those of us looking for a break from love potion #9. You'll likely recognize many of these tunes. Big names like Carrie Underwood, Justin Timberlake, Outkast, and Rihanna all make the list. Then there's the blasts from the past like Fionna Apple, Bob Marley and Carly Simon.
We're told anyone can play the list for 30 days if you sign up for Rhapsody — and we confirmed that no credit card is required. So you can have at it, then decide to cancel out before you get heartburn. Hmmm, no commitment again.
Suggestions? Additions? We'd love to hear them. I'd like to see Love Bites by Def Leppard added to the mix.
Anger Management

LISTEN NOW – Love Bites: The Anti-Valentines Day Playlist

Since U Been Gone, Kelly Clarkson
Song for the Dumped, Ben Folds
Tyrone, Erykah Badu
Gunpowder and Lead, Miranda Lambert
Call me When You're Sober, Evanescence
Outta Me, Onto You, Ani DiFranco
Single Ladies (Put a Ring On it), Beyonce
Cry Me A River, Justin Timberlake
Before He Cheats, Carrie Underwood
Rehab, Rihanna
Dry, P.J. Harvey
Roses, Outkast
You're so Vain, Carly Simon
Smile, Lily Allen
The One I Love, REM
You Oughta Know, Alanis Morissette
Caught Out There, Kelis
Gives You Hell, The All-American Rejects
You Don't Know What Love Is (You Just Do As You're Told), White Stripes
I Hate Myself for Loving You, Joan Jett & The Blackhearts
Goodbye Earl, Dixie Chicks
Big Ole Butt, LL Cool J
Here's a Quarter (Call Someone Who Cares), Travis Tritt
No Woman, No Cry, Bob Marley
So What, Pink
Special, Garbage
Cramping My Style, UGK
Revenge is Sweeter, The Veronicas
Ice Box, Omarion
Heartless, Kanye West
Meaningless, Magnetic Fields
Shadowboxer, Fiona Apple
Bye Bye, Jo Dee Messina
Everything About You, Ugly Kid Joe
Lyin' Ass Bitch, Fishbone
Good Luck, Basement Jaxx
Love Stinks, J Geils Band
According to You, Orianthi
Funhouse, Pink