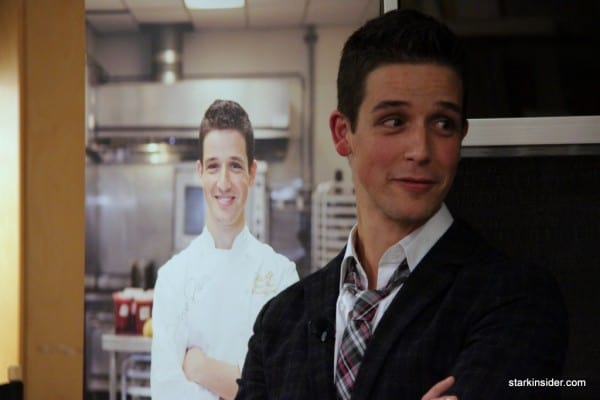 Yigit Pura has been a busy guy these days. The first ever winner of Bravo TV's Top Chef Just Desserts has been making the PR rounds, landing several high profile articles and mentions. People Magazine recently featured a recipe by the personable pastry chef for Roasted Hazlenut Shortbread Cookies.
And today the San Francisco Chronicle ran a feature on Yigit that covers his background, training, and even drops a hint about his future plans. According to the article, Yigit is partnering with his employer (Taste Catering) to create a "high-end" pastry shop in San Francisco. We can't think of a better person for the job.
"The most amazing part is I wanted to do the Trevor Project video," Yigit tells Loni of Stark Insider TV. "I wasn't sure if should do it, or shouldn't do it. Now it has over 11,000 hits, and I have had all these queer youths from all over the country telling me 'thanks for being such a positive role model, and breaking stereotypes. I almost want to cry every time I see that."
Here's the insider interview with Yigit before and after that special night when he was crowned winner. It was shot at a live viewing party at Macy's Cellar at Union Square in San Francisco. As you can see when Yigit's name was announced the hometown crowd went crazy, and the place broke out in pandemonium:
Meanwhile his popularity continues to soar. At last count his Facebook page had 4,870 fans. His status updates ("Communal wish list in the Castro. I love it! I think it's very cathartic. What is everyone's wish for the up coming year?") garner lots of comments and "likes" from a growing base of fans that appreciate his candor and positive demeanor.
When his new shop opens we'll let you know, and hopefully we'll be able to sample… ah, let's see… how about at least two or three of everything? Someone needs to get the scoop!
(Thanks to Loni Kao Stark in San Francisco who contributed to this this story)