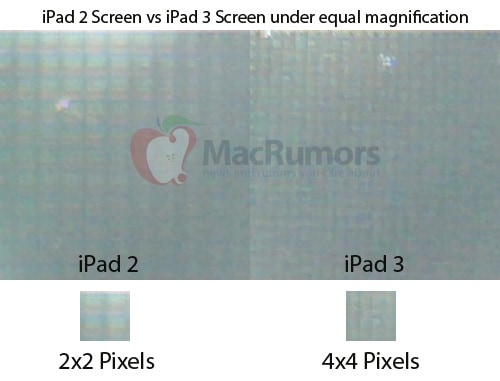 Although it's not "official" as some are reporting (how can it be "official" until Apple announces it, or we actually see it first hand?), it's pretty certain that the iPad 3 will feature a high resolution, 2048 x 1536 Retina display. This means twice as many pixels as the current model. Everything we know leads us to believe the display will retain its 9.7-inch size, though there's a strong possibility Apple will also launch a "mini" iPad of some kind.
The result?
More detail in photos. Text will be cleaner, sharper – this will especially benefit e-reading on the iPad. Games, and zooming will have more detail. You'll be able to fit more on the screen which will be a plus for web surfing.
The only down side we can think of is the potential strain on CPU, and a hit on battery life. If Apple's track record is any indication, we won't need to worry about that.
MacRumors posted a 2×2 pixel comparison of a close-up of the iPad 2 and iPad 3 resolution (see above).
According to MacRumors:
… under a microscope, the difference in resolutions becomes readily apparent, with the iPad 3 display's pixels appearing to be one-quarter the size of those on the iPad 2.
If you think the iPad 2 is just fine, good enough, you're in for what many are referring to as a "blow away" experience. Remember the first time you laid eyes on the iPhone 4? Woah! Right, and you thought the iPhone 3 was whistling dixie huh?
Also expect an A6 chip, and 4G LTE connectivity as I previously reported. We should see the Apple iPad 3 announced March 7.