NEW: Follow the San Francisco Theater scene on Twitter with one click.
San Jose Rep's season turned bold this week with the world premiere of Double Indemnity. Based on the classic 1943 crime novel (later turned into a hit film), noir scorches the stage. Heavy on style — costumes, set, lighting — and well paced it's a delicious way to spend two hours. Strolling down the rain-soaked Paseo de San Antonio to the Rep, I wondered if I was in for a staid adaptation, the kind where sets are predictably boxy, and lines are delivered with campy 1930s gusto. However, the minute scheming insurance agent Walter Huff (John Bogar in an dynamic, entertaining performance) appears, gasping and bleeding, at the bow of a luxury liner I knew this was going to be anything but dull.
At the heart of this web of betrayal is seductress Phyllis Nirlinger (Carrie Paff oozing playful sex appeal). She orchestrates her husband's murder, disguising it as an accident by staging his fall from a train (which pays double indemnity). Nirlinger is the blueprint for the modern day femme fetale (Sharon Stone, Basic Instinct beget Kim Novak, Vertigo). Striking, curvaceous, she woos men with the bat of an eye, and slinky step. It's not long before Huff, making an insurance house call, is pining for the married blonde and eager – after a cigarette and shot of bourbon – to unfurl the masterful plan.
More SF Bay Area Arts & Culture

Theater and Stage Reviews
A perfect murder?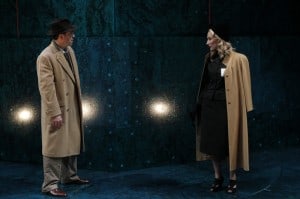 Well, almost. Except one problem: never bet against actuarial tables. Insurance investigator Keyes (Richard Ziman with zeal to spare) has seen "a million" of these cases. In the second act, the scheme unravels, but not without at least one or two twists. There is flirtatious daughter Lola Nirlinger (Jessica Martin) who harbors revenge; and her mysterious boy friend (Mark Anderson Phillips, always reliable).
In addition to the strong acting, scenic design (Thomas Lynch) is another stand-out. A large triangular structure juts out across from the center of the stage. Panels move vertically and horizontally to reveal apartments, living rooms, offices. At first I thought it was a bit much; this is a large piece that dominates the stage. But it's actually genius, and allows the play to flow without breaks for set changes. Dare I say it's like watching a high tempo hockey game where players make line changes on the fly. The action keeps on coming! Tip of the fedora to Kurt Beattie for inspired, innovative direction.
This co-production with A Contemporary Theatre (ACT) of Seattle proves beyond a reasonable doubt that Double Indemnity works as a play. All the hallmarks of a classic noir are here, right down to the dancing shadows, the smoke-filled rooms, and after hours stealth. That SJ Rep had the "audacity" to insert this modern re-imaging into their season is a real treat and a (train) ride not to be missed.
Double Indemnity

5 out of 5 stars (Outstanding – Starkie!)

San Jose Repertory Theatre

Directed by Kurt Beattie
Starring John Bogar, Jessica Martin, Carrie Paff, Mark Anderson Phillips, Richard Ziman
Adapted for the stage by David Pichette and R. Hamilton Wright
Co-produced with ACT – A Contemporary Theatre, Seattle, WA
STARK STUFF

Artistic director Rick Lombardo reported that more than 80% of subscribers renewed this season – "far surpassing" the industry average for regional theaters.

The play premiered at A Contemporary Theatre (Seattle) in November 2011, before heading down the West Coast to Silicon Valley.

Rick Lombardo: "Revisiting the novel takes us back to that period of California history when quick fortunes were being made or lost, and the cast untapped potential of our state was a lure for all types of schemers and dreamers. Hmmmm … come to think of it, maybe not much has changed in California after all."