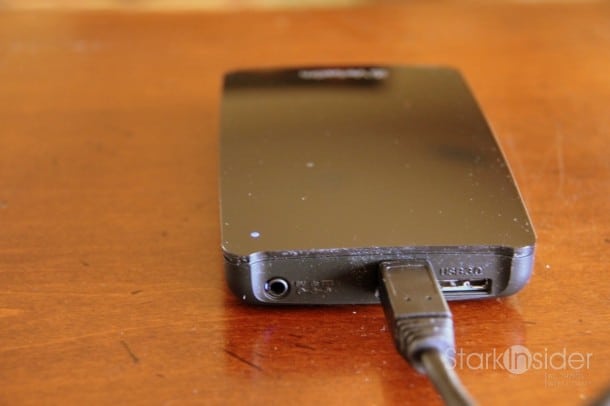 I'm always running out of storage. Constantly. It seems like just when I think I've got lots of head room, I see alerts and red bars all over the place once again warning me that my drive space is running low. Recently I upgraded all my SDHC class 10 flash cards that I use in Canon DSLRs such as the EOS 60D and EOS Rebel T2i to 32GB. But for on-the-go hard drive storage, I rely on several external drives to store mostly photos and videos that we shoot professionally for Stark Insider.
Verbatim was kind enough to send us a 500GB Store 'n' Go Hard Drive for Macs and I was able to put it through its paces both in the office and out in the field over the last few months.
Interfaces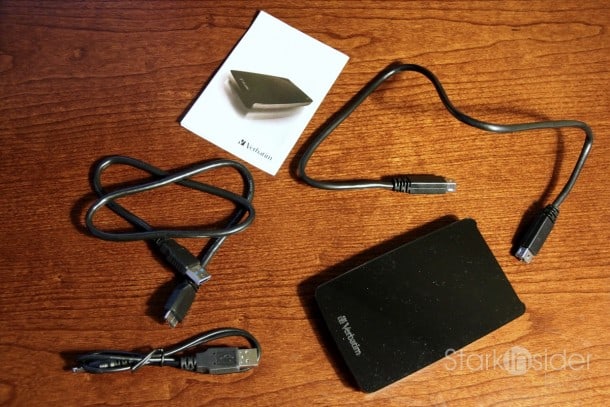 What I like about this drive is it includes both a USB 3.0 and a firewire (FS800) interface. This gives me tremendous flexibility in connecting it to a variety of devices. Out of the box, Verbatim ships it formatted with HFS+ which means this drive will only work with Mac OS X. If you like, though, you could reformat it (using the included Verbatim software) to FAT32 and use the drive with both Macs and PCs. If you're Mac only stick with HFS+ for higher performance.
Design
This is well built, solid drive. Finished with a gloss black on top (impossible to photograph without reflections and dust!), the corners are subtly rounded. A small blue light at the rear corner indicates connection. It's not any smaller or larger than most drives out there, but it does manage to impress with its substantial build quality. For us, where we absolutely need fast data transfer and 100% reliability on site, this drive is a welcome addition to the arsenal.
Performance
Speaking of speed. Time is money, and the faster I can get data onto our Macs and PCs in the non-linear suite for post production, the better. For us, USB 3.0 is a must, as is FW on the Macs. For reads the drive returned 60 MB/s and writes about 50 MB/s on average. This is about 80-90% better than I get on USB 2.0. That's a significant boost.
Recently, I took the drive down to the Baja where I shot over a thousand photos using the Canon EOS Rebel T2i. Shots included landscapes, people, the town of Loreto, Sea of Cortez and night skies – you can see some of the results here. At the end of each shoot I'd dump the shots onto this Verbatim drive, as well as my MacBook Pro's internal HD (which is quickly losing space!). Everything was peaches in terms of performance.
Competitive Advantage
Verbatim includes a two year warranty. That's twice as good as Seagate, but not quite as long as what you'll find on something like the Western Digital Passport. Keep in mind that Verbatim includes both USB 3.0 and FW cables with their package.
Price wise, the Store 'n' Go offers good value. The drive that we tested retails for over $200, but you can get it for almost half that on Amazon, where it's on sale for $111.53. If all you need is USB 3.0, then you can get the single interface model for only $84.99 (available in black, classic Verbatim pink, or blue).
Store 'n' Go Hard Drive for Macs

by Verbatim

4.5 out of 5 stars

Liked: Fast performance, solid build quality, includes both a USB 3.0 and FW800 cable, built-in energy saving software, quiet, formatting flexibility.

Soured: Interface cables could be thinner.

Verdict: Highly recommended for robust portable hard drive. We use it in the field every day for Stark Insider video/photo shoots and have experienced 100% reliability to date.

Price: 

500GB USB3.0 interface
MSRP $149 (best online deal: $85 via Amazon)

500GB USB 3.0 and FW 800 interfaces
MSRP $174 (best online deal:  $110 via Amazon)