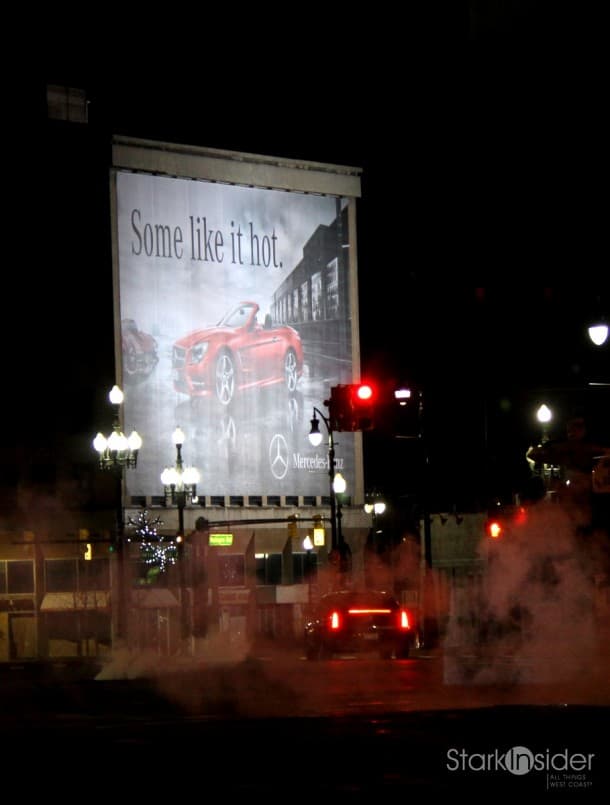 Stark Insider has landed in Detroit, and we've jumped right into the thick of the action on the eve of the North American International Auto Show press preview. Strolling Washington Blvd. tonight around the COBO Center, you get the sense there is a renewed excitement about all things automotive. A lot of that has to do with the success of the Big Three in 2011. It was a good year, in terms of financials and market share. For the first time in 23 years, GM, Ford, and Chrysler all took market share in the United States. Analysts expect more of the same this year with projected sales growth of 4-9%.
Another positive sign: Hybrids, and innovation. The mojo appears to be back. Automakers are ratcheting up R&D in an effort to woo demanding buyers looking for equal doses style, performance, and value. Meanwhile the high end of the market also doing better, with new models on on deck from Bentley (Continental GT V8), Lexus (LF-LC concept), and Acura (NSX concept) all expected to be unveiled here.
The only chill appears to be the weather. Brisk it is. As you can see in these photos from our night walk, I was (overly) stoked to see steam rising out of the man holes. We just don't get that in San Francisco. We stopped in for a quick beer and some nachos at the Big City Bar and Grill. Fortunately, our timing was impeccable. We were able to catch the last quarter of the Broncos/Steelers playoff game; it was another Tebow thriller, this time in addition to stellar scrambling the win even featured… pass completions. Congrats, our 49ers will hopefully be awaiting Denver in Super Bowl.
Tomorrow, action-packed press conferences begin.
It's a marathon. This is my first time covering the NAIAS, and I admit my eyes bled a tad when I saw the schedule. On Monday, there are no fewer than 20 presentations, one after the other. All time slots are 25 minutes. So we'll watch Ford kick off the day at Joe Louis Arena. From there the media "throng" of approximately 5,000 journalists will be led in order to: Chrysler, Chevrolet, Mercedes-Benz and Smart, Porsche, Volkswagen, BMW, Bentley, Audi, Lexus, MINI, Acura, Hyundai, Scion, Volvo, Michelin, DENSO and Panasonic, in addition to opening/welcomes which will also include the North American Car and Truck of the Year Awards. Phew! I hope the espresso injection stations are fully stocked.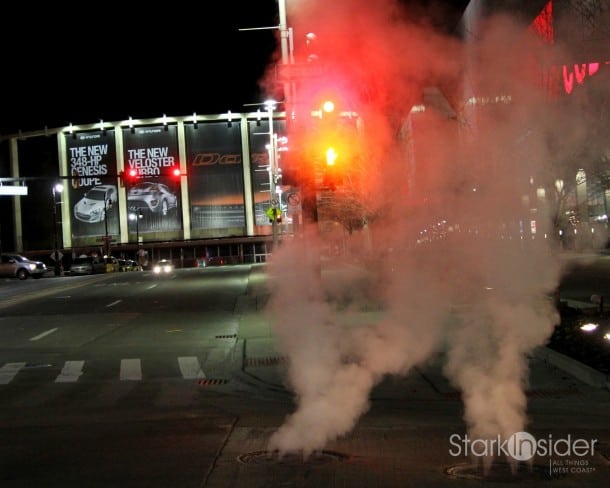 Unlike CES the other big consumer show opening this week, the time slots are super short. I like that. It's like the Twitter edition of press conferences, and it forces all involved to get right to the point. I remember sitting through a lengthy 90 minute Motorola presentation last year in Vegas. It was slick. The Android tablets and smartphones were impressive. But the whole shebang could've been compacted down to about 10 minutes. On the upside they catering was great, as was the Chardonnay (ah, yes, it's the little things).
No, I have yet to see Kid Rock, or Michael Moore. Disappointing that. Don't they know I'm in town and that Christopher Titus — a man that started a revolution… err, Neverlution at the DMV — loves us?!
More coverage from the Stark boys coming soon.
For now I leave you with a night walk in Detroit along Washington Blvd.