Behold the Lexus LF-LC hybrid sports coupe — and possible SC400 successor? Stunning would be an understatement to describe this sleek halo concept.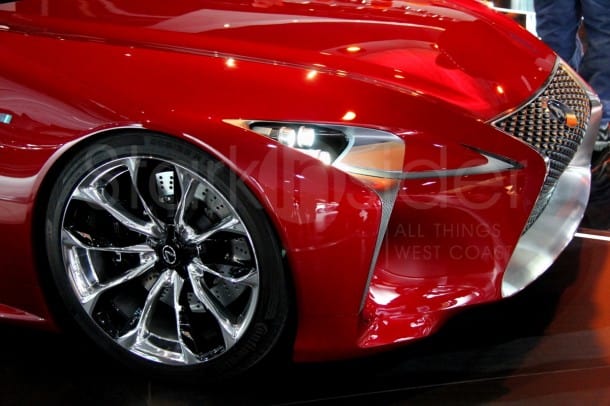 After its unveiling today I can say that — at least from a design perspective — the LF-LC a knockout (hat tip to Ford and the '13 Fusion which suitably impresses and could shake things up in its segment).
Despite the constant-challenged-and-hyphenated model designation, our jaws were collectively on the floor here at the Detroit Auto Show. Soon after the presentation the car was quietly brought back down to the main show floor. Fortunately I was hanging by the espresso station, talking with staffers about the dramatic LCA supercar, another head turner (but not a hybrid).
Then murmurs and a flurry of action to our right. It was the LF-LC returning to its mirrored pedestal at the Lexus booth. We all jumped in with cameras blazing; this is a car that looks special just sitting with its exterior lights turned on.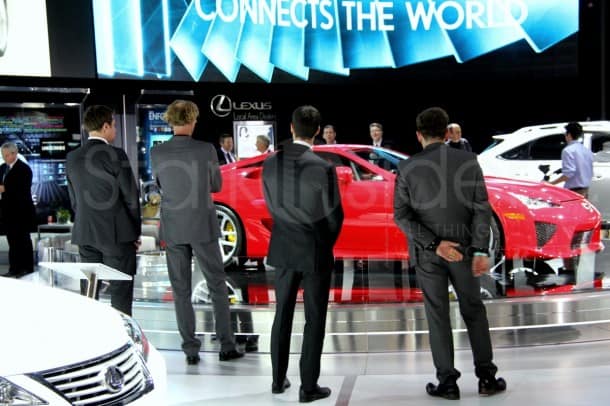 Check out the three-pronged design of the rear lights. And, in these photos, you'll also see the equally stunning and unique headlight treatment.
Other details we like are the expansive glass roof, the fact that it looks like an exotic yet seats four, and the long, dramatic hood. And–oh yeah–the 500hp+ it would likely put out also induces smiles. Whether it will match Prius for fuel efficiency remains to be seen…
Will the final product (if it ever makes it to production) look anything close to what we see here?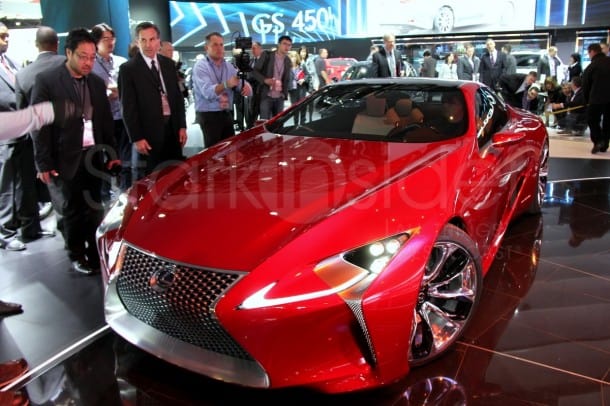 Hard to say, really. The LCA is a stunner too, in more of a Lamborghini balls-to-the-wall sort of way. This concept, on the other hand, is like the older brother that made it thorough finishing school, and would potentially be positioned as a luxury coupe — with hybrid system — rivaling competitors such as BMW (6-series/8-series?), Mercedes (SL/CLS), Audi (S5/R8).
After snapping these shots, I gathered my senses. And then quickly located the nearest Lexus official. If "emotional and inspirational" connection are the goals with this concept, then mission accomplished. I immediately surrendered $100 and a Molson to move my pre-order ahead of Leo DiCaprio.
The Pragmatic Sports Coupe Alternative

Another car that impresses (but for different reasons) is the Scion FR-S (Front-engine, Rear-wheel drive, Sport), a 2+2 sports coupe.

Unlike the mega-monster that is the LF-LC, this is a street car targeted at "drifters" and the after market tuner crowd. Expect it to do gangbusters. No word on price yet. I loved the tight, no frills styling. There's simple creasework, and overall proportions are perfect.

The FR-S's 2.0-liter, naturally aspirated four-cylinder engine (200 horsepower, 151 pound-feet of torque) is the result of a joint development between Toyota and Subaru.

At a rumored $25,000 (no official price has been announced) this is likely to be one hot buy.