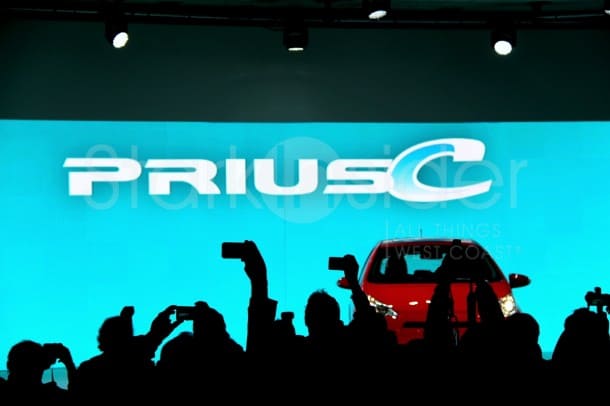 "Hybrids are the first steps in advancing unconventional technology with mainstream buyers." And with that president and CEO Jim Lentz kicked off Toyota's hybrid-centric press conference here on day 2 of the Detroit Auto Show.
About half of all hybrids sold in the US, he noted, are a Prius.
"Prius goes plural" is the big theme for the carmaker both over the past twelve months and into the foreseeable future. The Japanese automaker is apparently doubling down on electric and alternative technologies such as hybrid.
In addition to the Prius v ("versatility") launched late 2011, and the upcoming Prius Plug-in, a new city model, the Prius c, will join the lineup. Targeted at younger buyers who may have previously been priced out of the hybrid market, the c will start at around $19,000 making it the lowest cost plug-in available on the market. Power will come from a 1.5-liter gas engine and small electric motor making for 99-horsepower total. Gas mileage is expected to be 53 mpg – the highest fuel efficiency of any hybrid plug-in in America).
Prius v ("Versatility")
— launched late 2011. A larger version of the standard Prius.
Prius Plug-in
— 10-15 miles all-electric range.
Prius c ("City")
— 19 inches shorter in length than standard Prius
— 53 mpg (highest city fuel efficiency of any car in America without a plugin)
— starting under $19,000 (lower than the first hybrid launched over 12 years ago)
— 1.5-liter gas engine – total system output 99 horsepower
— 4 trim levels
— targeted to young buyers on a budget – up until now who have found the "hybrid experience out of reach"
— sales target of 15,000 year
Also today, Toyota announced two small market tests to assess consumer preferences:
Scion iQ EV – urban car sharing programs (range of less than 50 miles)
RAV EV – only all-electric SUV in the marketplace, powered by Tesla Drive System (driving range over 100 miles)
"Refueling infrastructure is a challenge" – Lentz briefly conceded that it remains a challenge but Toyota would — just like the bouncy, happy music that preceded the press conference — continue to maintain a positive attitude towards educating buyers on the merits of hybrid and electric technology. Their goal? To "grow consumer interest and trust" in electric vehicles.
The presentation ended with flare, as the NS4 concept rolled onto the stage. The sleek 4-door sedan portends what the next Prius might look like. Click here for photos and details.