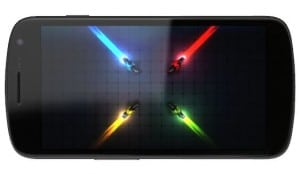 Or so we think.
According to DroidLife, the Samsung Galaxy Nexus, the flagship Android smartphone and the first to run Android 4.0 aka Ice Cream Sandwich, will hit Verizon stores next week, on Thursday December 15.
The long (long) awaited phone is likely the most anticipated, most discussed Android phone ever. And we mean ever. Several features set the Samsung built model apart from others.
Aside from shipping with the aforementioned ICS, the Nexus is also the first to feature softkeys in place of regular hard buttons, similar to Honeycomb tablets, for navigation (back, home, etc.). Since they're software based, one nice benefit is that they can disappear to allow for functions, like watching a video for example, to take advantage of the full 4.65-inch Super AMOLED display.
Verizon, still holding its cards close, has not publicly announced a launch date, so it's very possible that we not see Nexus next week.
What could be the hold-up, and why didn't Verizon ship it today, as originally rumored?
That would be pure speculation at this point. One possibility some are suggesting is a potential deal was being worked that would enable Google Wallet, a mobile payment feature that has been disabled, much to the chagrin of us Androids.
Just over two years ago Google and Motorola teamed up for the "Droid Does" launch. To say the results were spectacular would be an understatement. In twenty-four months, Android has turned the collective mobile market on its ears, while amassing over 10 billion downloads on the Android app store, and leaving a trail of blood and bodies in its path. RIM (BlackBerry), HP (WebOS) and Microsoft (Windows Phone 7) have also suffered, some fatally, as Android's share continued to climb dramatically.
With hundreds of thousands of first-gen Motorola Droid customers out there, this upgrade cycle is the biggest and arguably most important in Android's short history. Apple is trying to woo as many would-be upgraders with the iPhone 4S, which beat Nexus to market. Google is countering with an upgraded OS, and larger displays.
As part of the Android upgrade dilemma I originally posed the question: HTC Rezound, Motorola Droid RAZR or Samsung Galaxy Nexus?
While some jumped to other phones out of frustration (or lack of interest in ICS) the majority, like me, are waiting (and waiting) for the Nexus. I no longer feel so lonely. Let the upgrades begin!