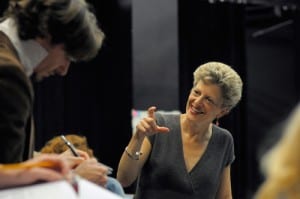 American Conservatory Theater (A.C.T.) announced that the world premiere of Higher, written by A.C.T. Artistic Director Carey Perloff and directed by A.C.T. Associate Artistic Director Mark Rucker, will open February 2012.
In the new play, which recently received The Blanche and Irving Laurie Foundation Theatre Visions Fund Award, two American architects dive into a high-stakes competition to design a memorial in Israel. They're also in love—but don't know that they are vying against one another. Higher whisks us from sleek New York studios to the shores of the Sea of Galilee, as the architects confront their own pasts in a race to make their mark on history. Faith, family, desire, and design fuel this new work, featuring A.C.T. core acting company member René Augesen, A.C.T. favorite Andrew Polk (The Homecoming, November), Concetta Tomei (The Elephant Man, Noises Off, and Goodbye Fidel on Broadway, Providence on television), and Alexander Crowther and Ben Kahre, members of the A.C.T. Master of Fine Arts Program class of 2012.
Perloff said about her inspiration for the piece: "Higher was born in part out of my fascination with architects, and with the kind of obsession it can take to imagine and create a signature building. Then I began to imagine how much more complicated the process could become when love, desire, betrayal, and professional jealousy became involved. It's also a play about memory, and loss, in a particularly Jewish context." She added: "After collaborating with Mark Rucker on a site-specific reading at the Contemporary Jewish Museum last year, I'm thrilled to finally have a chance to see the play come alive in a full production in San Francisco."
Rucker said: "It has been a rich experience developing the play with Carey over the last two years. The design process has been amazing and I can't wait to get into the rehearsal room with Carey and the actors."
More A.C.T. Coverage:

Get all the SF Bay Area theater news & reviews: Follow us on Twitter @StarkInsider and on Facebook
Higher is the fourth full-length play written by Perloff, who is best known as a director and champion of other playwrights, including Tom Stoppard, Harold Pinter, José Rivera, and Philip Kan Gotanda. She has been developing the new work with A.C.T. Associate Artistic Director Mark Rucker for two years, beginning with a workshop at New York Stage and Film, followed by workshops at the Asolo Repertory Theatre in Florida and the Contemporary Jewish Museum in San Francisco last fall.
The creative team for Higher includes scenic designer Erik Flatmo (Scapin, November, The Government Inspector, and The Imaginary Invalid at A.C.T.), lighting designer Gabe Maxson (artistic associate with The Wooster Group), costume designer David Draper, and sound designer Will McCandless. Higher is stage-managed by Danielle Callaghan.
HIGHER

By Carey Perloff
Directed by Mark Rucker

World Premiere
A.C.T., San Francisco

A high-powered Jewish architect, madly in love with an equally talented colleague, discovers that she is his rival in a competition to design a memorial in Israel. As they roam from the sleek rooms of plush New York apartments to the muddy shores of Israel, the two architects are stretched to the limits of their creativity—and sanity. Memory, desire, and design fuel this thrilling new work.

René Augesen (Elena Constantine), Alexander Crowther (Jacob Stein), Ben Kahre (Isaac Friedman), Concetta Tomei (Valerie Rifkind)

Creative Team:
Danielle Callaghan (stage manager), David Draper (costume designer), Erik Flatmo (scenic designer), Gabe Maxson (lighting designer), Will McCandless (sound designer)

February 1–19, 2012
Tue.–Sat. at 8 p.m. (2/7 performance is at 7 p.m.)
Wed., Sat. & Sun. at 2 p.m. (no matinee performances on 2/5, 2/8)
7 p.m. performance on 2/5