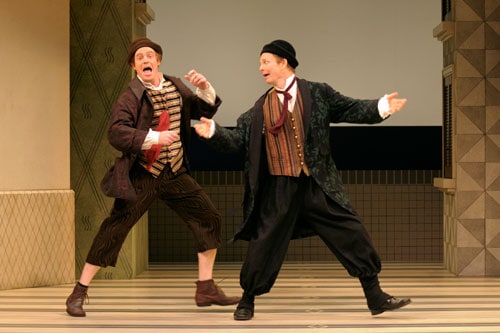 American Conservatory Theater (A.C.T.) Artistic Director Carey Perloff announced that an evening of short plays by modernist master Samuel Beckett replaces Twelfth Night for the 2011–12 season. The evening includes Endgame, Beckett's timeless rumination on the end of life, featuring two-time Tony Award winner and A.C.T. favorite Bill Irwin, and Play featuring A.C.T. core acting company members René Augesen, Anthony Fusco, and Annie Purcell.
A longtime Bay Area favorite as one of the founders of the Pickle Family Circus, Irwin returns to A.C.T. after stealing the hearts of the Bay Area audiences last season as the loveable title character in Moliére's Scapin, which he also adapted and directed.
Perloff, who has previously directed Beckett's Waiting for Godot at A.C.T. and will helm the production, said: "It was in Endgame that Beckett famously wrote: "nothing is funnier than unhappiness." And I cannot think of a more consummate artist than Bill Irwin to demonstrate that fact, undertaking the lead role of Hamm in this astonishing play. Endgame is a play Bill and I have wanted to do together for many years; when the opportunity suddenly presented itself to do it this season, we could not say no. I am thrilled to present Endgame in tandem with a comic gem from 1963 called Play, which will give our core company a chance to shine a spotlight on a hilarious tale of marriage and adultery that represents a very different side of Beckett's oeuvre. I hope that this Beckett pairing will add a rich chapter to A.C.T.'s explorations of the great modernists, Beckett and Pinter." Endgame and Play play May 9–June 3, 2012, at the American Conservatory Theater (415 Geary Street, San Francisco).
Endgame and Play join a season that includes the Charles Dickens classic A Christmas Carol, Bay Area's favorite holiday tradition; Bay Area premiere of Lorenzo Pisoni's triumphant one-man show, Humor Abuse; the world premiere of Carey Perloff's award–winning new play Higher; the West Coast premiere of Middle Eastern playwright Wajdi Mouwad's haunting play Scorched, featuring Emmy Award winner and Golden Globe and Academy Award–nominated actor David Strathairn (Temple Grandin and Good Night, and Good Luck; The Tempest at A.C.T.); the West Coast premiere of up-and-coming playwright Jordan Harrison's Maple and Vine; and the 12–time Tony Award–nominated Kander and Ebb musical The Scottsboro Boys, directed and choreographed by Susan Stroman, with book by David Thompson.