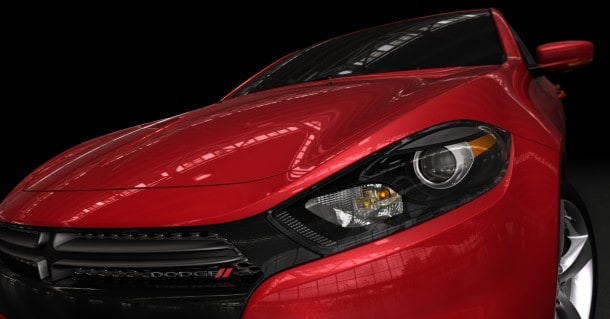 My memories of the Motorola RAZR cell phone of the 90s were generally positive. The Dodge Dart? Hmm, I'll need to get back to you on that.
No matter. With the resurrected "Dart" name, Dodge is continuing the trend of raising brands long dead-and-buried; it's likely far cheaper than assembling a naming committee and sticking post-it notes to a conference room wall for months on end. Dart joins the Challenger, and Charger in an increasing line-up of new models so-named to appeal to Boomer's nostalgia. The original Dart was produced from 1960 through 1976.
This 2013 Italian-inspired edition, I keep telling myself, is not my grandfather's Dart.
Made of  68% high-strength steel, the American made (Belvidere, Illinois) sedan, will pack a 1.4 litre, 4-cylinder multi Air turbocharged engine.
The car is scheduled to debut at the 2012 North American Auto Show. There I will put Dart to the ultimate test and determine if it would've received my grandfather's seal of approval: Does the headliner feature vintage 1973 cigar smoke aroma?
Last month, Motorola scored some headlines with the revival of its much beloved RAZR brand. Retaining its original brand promise of thin, the new Android smartphone, dubbed the Droid RAZR, made my list of top smartphones. Soon thereafter it was eclipsed by the upcoming Samsung Galaxy Nexus.
Pulling out a retired brand can bring numerous benefits: instant recognition, aforementioned nostalgia, emotional attachment and fond memories. With these attributes in tow, a manufacturer can play off a built-in connection consumers will no doubt already have with the brand. Of course, the reverse is also true. Which is probably why we're not likely to see the AMC Gremlin brand resurrected anytime soon–as much as I loved its three-speed, failing brakes and floorboard fires.