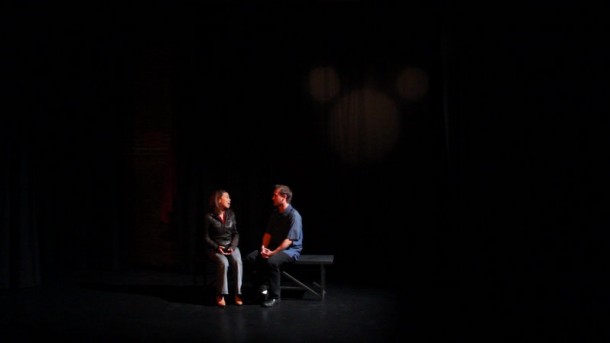 "They put you in a bucket of this goo," says Trevor Allen, describing how he'd prepare, behind-the-scenes at the Magic Kingdom for his role–with voice clearance!–as the Mad Hatter. Before that he was lucky to be one of the Fab 5: Mickey's dog Pluto. Or as Trevor refers to it… uh, okay, you better watch the video for the skinny on that.
Working for four years in Disneyland in the 80's gave Allen a truckload of material. Fortunately he and his Alice and Wonderland unit were constantly at odds with the Disney Way. The result is a hilarious one man show, Working for the Mouse, now playing the Exit Theatre in San Francisco.
Stark Insider TV: Working for the Mouse, with playwright Trevor Allen
The 80-minute play is a no-holds-barred look at life without pixie dust. There are wild parties, ride violations, tense auditions. Then there's the "guests". Turns out character actors at Disney face no shortage of groping, and sweating, not to mention a perpetual bombardment of questions and challenges… like "Why is a raven like a writing desk?" – since the answer on that one is no where to be found in Disney movies or Lewis's novels, Allen had to research it himself for the answer you'll see in this interview.
We've been wanting to get Trevor on Stark Insider TV for a while now. When I saw The Creature in 2009, starring James Carpenter, I was floored. This was the epitome of black box theatre. Allen penned that script, and then went on to write Lolita Roadtrip at San Jose Stage. A lot more is in the hopper, including Valley of Sand, a play based on Silicon Valley commissioned by the San Jose Repertory Theatre. Yes, this guy is white hot right now. So we were thrilled when he took a few minutes before opening night at the Exit to sit down and discuss Mouse, his career, and… Motorola Droid …?