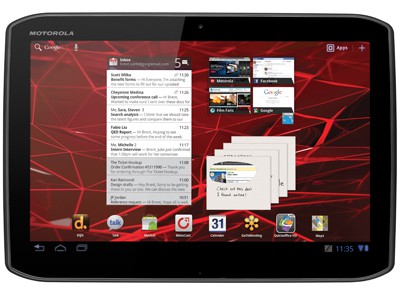 Remember CES 2011? It seems so far away now. There were two shining stars at that show: the RIM PlayBook and the Motorola Xoom. I remember the media crush, and the frenzy that ensued when demo products were unleashed after flashy presentations.
Maybe it's too early to suggest a curse, but based on this year's edition you're better off staying out of the CES spot lest you become over-hyped, over-priced, and underwhelming slabs of yesteryear. In retrospect that euphoria was likely more about the possibility of an alternative–any alternative–to the competition crushing Apple iPad.
Memories in tech are notoriously short, though, and Motorola is back at it again (while RIM sends PlayBook for a ride down Discount Boulevard), with a modestly improved Xoom 2. But apparently it's making like Jim Morrison and will only be spotted across the pond.
It's about the same size, though slightly slimmer and lighter, than its predecessor and uses the same 10.1-inch display. Speed is up slightly thanks to a dual-core 1.2 GHz processor.
Battery life is expected to be about 10 hours which is on par with the class leading Samsung Galaxy Tab 10.1. On-board cameras: 5 MP on back and 1.3MP in front. Xoom 2 comes with 1GB internal RAM and 16GB storage, and runs Honeycomb (Android 3.2).
For now the tablet will be available only in the UK and Ireland, with no word yet on US availability. According to Business Insider, Motorola wants to FCZ on the RAZR release (decision time, Android fans: Nexus or RAZR?). And I've also heard they wish the Apple iPad did not exist.