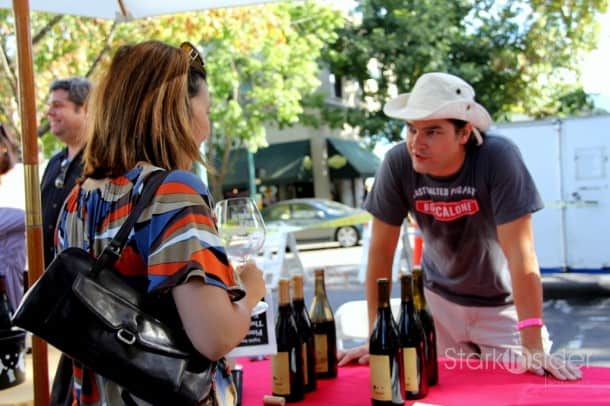 If you love Pinot (or even if you just really, really like it) the best place to be on the planet this past weekend was in Healdsburg Square.
The annual Pinot on the River is billed as the full immersion Pinot experience, and it did not disappoint. Cowboys, kids, and oenophiles were out in full force, enjoying a jaw-droppingly gorgeous setting. Look, I've been living in Northern California for 13 years now and seen it all – sunsets over the Pacific, the expanse of the rolling Napa Valley (from high atop Artesa – unforgettable), the fog blanketing San Francisco and the Golden Gate Bridge in impressionistic beauty … but there's something about the breeziness of Healdsburg that is just too good to be true. At times, walking across cozy green spaces, park benches, and then strolling down the side streets past charming shops, that you feel almost like you're on a movie set. Can this town be real? It was almost enough to take my mind off the tragedy that beset my trusty EOS 60D moments earlier.
Over the years we've covered a lot of wine tasting events for Stark Insider — some big and open to the public such as "Toast of the Town", some small and open to trade and media such as a "Day in the Dust" — and Pinot on the River is one of the more memorable. Sure, you don't get the celebrity chef vibe here. No fois gras in sight (not that it will last long in this State anyways) – nary an Iron Chef throwdown/demo either. That's OK. Because this event is about that much beloved, most understood and often maligned, of grapes: Sir Pinot.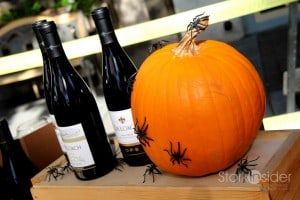 My rough estimate had about 102 wineries (give or take) pouring under the Sonoma sun. Many were boutique operations with under 1,000 cases (De Novo – 500 cases, Demuth- 1,000 cases, Desmond – 150 cases, Masut – 850 cases, Patz & Hall – 858 cases), while others were larger, recognized brands such as DeLoach, Hop Kiln and La Rochelle (Livermore).
I highly recommend this type of event for two reasons: (1) you get to taste through an unbelievable range of wine styles within one small town block; and (2) you get first-hand knowledge, information and updates from the winemakers and owners themselves, often the same ones pouring the wines. Then there's the social aspect too- perchance, did you know that wine and good conversation go together well… ?
Santa Cruz had some representation here with eleven wineries on hand. I admit that I was mostly seeking Russian River Valley Pinot, and, therefore, didn't spend time with any of them- though I'm quite familiar with Thomas Fogarty which is based here in Silicon Valley (up in the Woodside hills on Skyline).
True to its reputation, Pinot Noir is often a hit or miss affair. When it misses I find it not just bland or non-descriptive, but often repugnant- in a weird-screw-up-your-mouth-and-jig-on-a-foot sort of way. Fortunately, there was a lot of good juice on this day. Sonoma Coast (esp. RRV) and Carneros in Napa are two of my favorite regions for quality Pinot; just a slight guess that I'm not alone in that regard.