Last night Teatro ZinZanni proved once again why it's become a San Francisco landmark. On the Air, its latest (and final) show, raises the bar on the dinner theater experience, leaving a packed Spiegeltent audience equally charmed, entertained, and gastronomically satiated. Although the fate of the Pier 29 circus is not referenced in the show (a good decision), I'd bet there were more than a few tears in the house.
When TZ landed here in 1998 it was only supposed to play for a few weeks. Instead it has seduced audiences for more than 23 years, entertaining 800,000 visitors, and featuring 40 different theatrical productions and over 200 performers. New Year's Eve 2011 will be the last performance. The prime real estate (including Piers 27 and 29) along the Embarcadero, with expansive views of Alcatraz, and across the Bay, will be redeveloped and used when the city hosts America's Cup next year.
But if that news weighed on anyone's mind, you would never know it. On the Air marked my fifth soiree under the Spiegeltent (what a beautiful piece!), and this production was the most elegant, artistic and well-integrated yet. An hourly radio show, co-hosted by the superb Geoff Hoyle (the original Zazu in The Lion King on Broadway), is an inspired theme that suits the vaudeville and circus acts that unfold all around us. TZ was once described as "Mouline Rouge" meets "Cirque du Soleil" – I can think of no better way to describe the spectacle.
Legendary blues singer Duffy Bishop brought soul to spare in her numbers, channeling an agreeable mix of Bette Middler and Janis Joplin. Eight other performers rounded out a strong, diverse cast. Manuela Horn, the "Austrian Amazon," brought some SF-flavored dominatrix action, which, in true TZ-style, involved at least one under-matched audience member – and a dog collar (reminder: this is an adult circus, kids). San Jose native and Cirque Le Reve veteran Christopher Phi was also a highlight among highlights with an astonishing handbalancing act. And although I miss the Ukranian sex kitten Vita, Matt Plendl re-energizes the hula-hoop (he was U.S. National Champion at age 13) with a jaw-dropping routine that combines physical timing and performance art. Bernard Hazens' choreographed acrobatic/balancing routine: No, that's not possible! Bringing the female sex appeal is Elena Gathova ("Lucky Moon"), also of Cirque (Zumanity), as a martian that soon finds her way pricariously upon the chandelier.
There's a bit of George Burns here, as in co-host Wayne Doba's series of one liners:
"I'll do anything for $50 she says to me."
… "So I tell her to paint my house."
And since Teatro likes to toss in a broad array of musical styles, soprano Kristin Clayton gets her moment later in the show with a beautiful aria. "Waitress-in-training" Andrea Conway Doba brings light-hearted comedic timing and also enjoys a bit of amusing banter with Dick.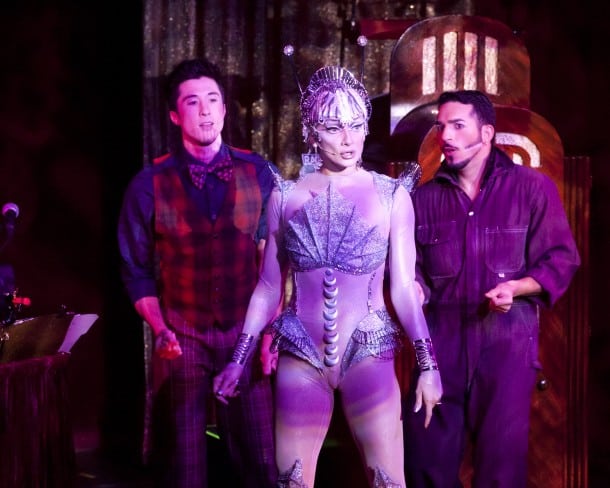 The members of the TZ orchestra (Chris Carlson, Ross Gualco, Karl Theobald, Alan Hall, Andrew Higgins) deserve utmost praise. This is is the sharpest I've heard them yet; wailing saxes, searing guitars, tight rhythm, and nimble keyboards all sound crisp, rich. It's live magic when Chris Carlson ratchets up the 60s guitar ethos with singer Duffy Bishop in the gritty "Tobacco Road"  followed by a little Hendrix with "Voodoo Child." Lip sync, be gone- this is the real deal.
Top-tier talent has graced the Spiegeltent leaving an indelible mark on the San Francisco entertainment scene: Frank Ferrante (who performs in Seattle, and is the comedy coach), Joan Baez, Liliane Montevecchi, and so many others. The venue will certainly be missed. It's a unique experience of cabaret, circus, and improv. Most of all it may be remembered for the wildcard:  its audience engagement- which may scare the bejesus out of some. However, it's that breaking of the fourth wall that makes each evening unique, and special.
Those that have experienced Teatro, be it the regulars and locals who come several times per year, or the out-of-towners experiencing it for the first time, gather in the lounge between acts, and at the end of the show and talk energetically about what they've just witnessed. It was no different with On the Air. Buzz was definitely in the air. Note: The performing area is wide-ranging- you may not even be safe in the restroom…
Perhaps most remarkable of all is how this show–with so many moving parts, including the serving of an above-par 5-course dinner–comes together so seamlessly. The cocktails flow, the laughs never cease. The entertainment factor is dialed to eleven with Teatro ZinZanni, and even the most jaded live theater butterfly would be hard pressed to call it anything but unforgettable.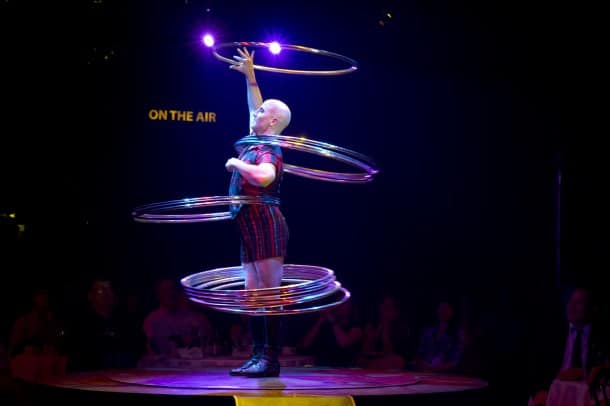 [Photos: Tracy Martin/Mark Kitaoka]
Stark-worthy

If you go, consider bringing a nice bottle of wine. Corkage is only $25. This time we brought a Peju Cab from Napa.

Another tip: arrive early. Part of the TZ experience takes place before the show begins, in the lounge, and bar areas. Here you'll get to socialize with friends, make new friends, and also marvel at some of the cabaret-themes costumes (and since this is San Francisco, expect some outlandish stuff).

My parents were in town from Canada and it was serendipity that they could experience TZ before it closes. Dad is from Glasgow so he no doubt was amused by Geoff Hoyle's McCracken – which, come to think of it, could have been the half-brother/sister to Robbin William's Mrs. Doubtfire.

Team Stark (missing you Sheen & Paul!)