Teatro Zinzanni has been entertaining audiences at Pier 29 in San Francisco for 10 years now, and it's easy to see why. Perhaps it's the sexy mix of love, chaos and couture. But, don't forget the gourmet 5-course meal! Dinner theater, don't you know, can be quite the spectacle. And it certainly makes for an unforgettable evening (review: Teatro ZinZanni San Francisco) Caesar himself, played by Frank Ferrate, sums up the show for Loni, "Aerial acts. Contortion acts. Comedy. Music. Stars. The great Liliane Montevecchi, Broadway star!"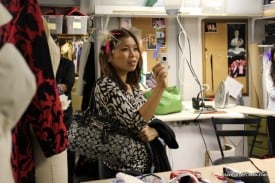 Describing Ferrate, the host of hosts, Clint wrote in his review, "A wild-and-zanny-Steve-Martin kind of guy with heavy makeup and colorful costume, he enters on a chariot: 'I am Caesar!'"
And on Vita's adult-oriented exhibition: "Ukrainian contortionist and sex kitten Vita Radionova who's curvy, erotic performance should be banned outside of Europe. Either that, or given its own 24-hour specialty channel."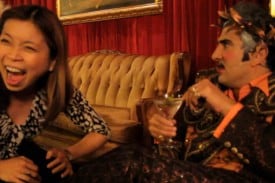 Now go inside the colorful, sexy, and unexpected world of Teatro ZinZanni in this latest SSC On Location video. Beaver Bauer, mistress of fashion and well-known theater costume designer says, "We really do see everyone naked. It's a profound dialog." See first-hand what the wardrobe department looks like for a world-class dinner theater extravaganza.
Once again, the name "StarkSilverCreek" takes its fair share of abuse. What do you mean it doesn't roll off the tongue? At least we're mentioned in the same sentence as HBO – don't worry though there's no nudity in this video.
Plus, this may very well mark the first time Clint has been called "Richie Cunningham" on video – although I can't say I disagree with Caesar's assessment.
Join Loni and Clint as they run down the streets of San Francisco, trying to make opening night in time. Will they make it? And who and what will they discover along the way?