Settle in, we're on our way to Hollywood, and we have a nice little talkie we'd like to share with you; starring a man who understands the value of the spoken word.
Mark Rucker is perhaps the ideal director to discuss the intersection of theater and film. His latest stage production, Once in a Lifetime currently playing A.C.T. in San Francisco, continues the exciting trend of mashing up cinematic elements, such as projection screens, with live theatrical production values. Along with Berkeley Rep, A.C.T. is at the forefront of pushing the envelope. Over the past few years we've seen some jaw-dropping integration here. Who can forget when an actress stepped into a massive movie screen in Brief Encounter, or Kim Collier's stunning camera work and projection screens in the hauntingly claustrophobic No Exit?
Many will recognize Mark, who was named A.C.T. associate director last year, from his 2003 Sundance cult classic Die Mommie Die! starring Jason Priestly, Natasha Lyonne and Frances Conroy. His experience with independent film seems like the perfect fit for the evolving world of live stage. So when we had a chance to visit the "big house" on Geary and shoot an interview on this spectacular set we jumped at the opportunity.
With Once in a Lifetime, Mark is bringing a production he originally staged with 12 MFA students (for a budget of "about $50," he jokes) to the main stage.
"One of my favorite moments in the theater is when the curtain goes up," he tells Loni while sitting on a train bound for Hollywood. "Probably because for years I didn't even get a curtain!"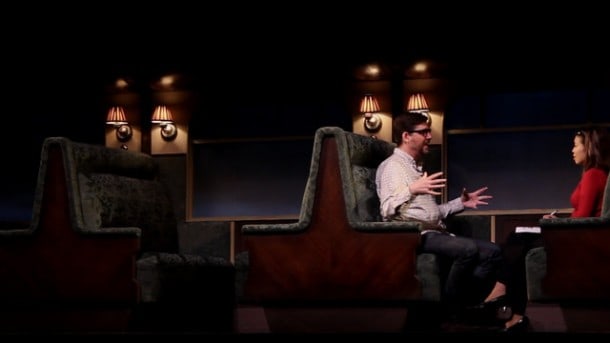 Film buffs will appreciate that the talkies of the early 20th century brought a new set of challenges over their silent counterparts.
"The first talking pictures were extremely clumsy," he explains. "And silent films had become very very artistic. They were so far superior to the talking pictures at the beginning that there were a lot of people that felt like silent films were still the superior art form."
Mark explains how early filmmakers had to place microphones in awkward positions so that all the actor's voices could be heard. And then there was the challenge of mobility. Movies became less international because, unlike silent films, they needed to be translated to reach broader audiences.
I could tell you more… but instead: All Aboard! Join Loni and Mark Rucker on a train bound for Hollywood…
Stark Insider TV – Once in a Lifetime with Mark Rucker
[Once in a Lifetime, A.C.T.]