I enjoy a trip to Hell just as much as the next guy, what with the flames, the leather, the rock ′n roll. But I'm not so sure I'm ready to return to the fire and brimstone as envisioned in Kim Collier's new spin on Sartre's existential classic No Exit. Yes, the proceedings here are ominous and filled with cinematic wonder ("live film"), however by the end I was left in a mechanical state of neutrality. Others might call it boredom. That's too bad, really, as this production features some fine acting, beautiful set design and fierce dialog. Unlike last year's Brief Encounter, a brilliant spectacle courtesy of Knee High Theatre of London which also employed multimedia tricks, the piece-parts here don't gel- what we get certainly brings the avant-garde, but wants for entertainment value. Then again, that's hell for you.
On the upside, the Buick of theater this is not, which is to say I'm thankful that productions like this re-imaging even exist. If theater is to survive (and ultimately thrive) in this world of infinite entertainment options — Internet, XBOX, Social Networking, Angry Birds — then it's going to need to try a new thing or two once in a while.
The story concerns "The Valet" who ushers three people into a shabby hotel room. Objects, including mirrors and bells, inexplicably placed around the room, eventually provide clues into the multi-layered extravaganza/mystery unfolding before our very voyeuristic eyes. This is what a mash-up of Rear Window and Saw might look like. Three projectors sitting on stage create a multi-paneled viewing experience that is as astonishingly creative as it is, at times, distracting.
As The Valet, Jonathon Young is a ringmaster of sorts, directing our attention to various parts of the stage, before again joining us in watching the three strangers attempt to adapt and/or deal with their fates in absence of mirrors. Andy Thompson as Cradeau, a journalist, delivers a manic, befuddled performance that feels right out of classic Hollywood, circa 1920. Equally impressive are Laara Sadiq as Inez, a secretary, and Lucia Frangione as Estelle, the high-society blonde (even a chair needs to match her outfit). What transpires next is part of the fun. At first we're not exactly sure where the story is headed, but eventually we see the light.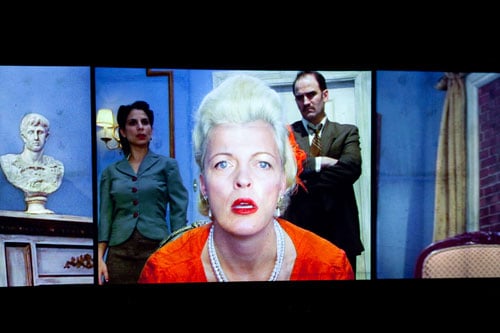 In a bit of serendipity Carey Perloff discovered the work at Theatre Calgary, after meeting theater/film maker Kim Collier at a conference in Vancouver. In September The Tosca Project, a gorgeous loveletter to San Francisco that premiered last year on the A.C.T. stage, will open at Theatre Calgary. As Perloff notes, "the exchange will have come full circle!"
Interestingly I found myself enjoying the backstories to No Exit more than the actual show itself. Kim Collier, for example, who directed the piece, received the 2010 Elinore & Lou Siminovitch Prize, Canada's largest theater award. The Virtual Stage and Electric Company Theatre coproduction ran at the Centre for Digital Media in Vancouver in May 2008, after which it toured Canada. The three performers in the No Exit "bunker" (akin to a very small studio located stage left) are each framed by cameras. Then there is a spy camera, and then there is a wide-angle camera overhead. To learn more about the technical aspects be sure to head onstage after the show to get a behind-the-scenes glimpse of the live film set. It's remarkable! Also, "Words on Plays," the beautiful guide to each production at ACT, contains several interesting stories, and articles. Being a technical junkie I really enjoyed "Hell By Design" (pp. 16).
No Exit certainly does feel fresh, contemporary. And just like the high profile Three Sisters (also with strong acting and a striking set) at Berkeley Rep, I was left somewhat underwhelmed. Fans of Sartre will need to judge for themselves whether this translation is a classic. It's an exciting theatrical event, no doubt, but the existential nature of the source material may leave some out in the cold — now I've experienced that Hell before, it's called Canadian winter.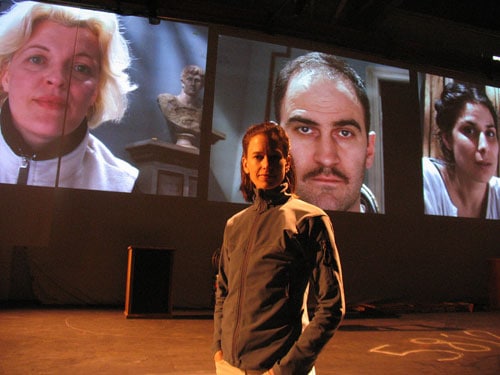 No Exit

Co-production by The Virtual Stage and Electric Company Theatre
U.S. Premiere
By Jean-Paul Sartre
A.C.T., San Francisco
2.5 out of 5 stars
Adapted from the French by Paul Bowles
Performed in concert with The Valet, by Jonathon Young
Conceived and directed by Kim Collier
Starring Jonathon Young, Andy Thompson, Laara Sadiq, Lucia Frangione
Through May 1, 2011