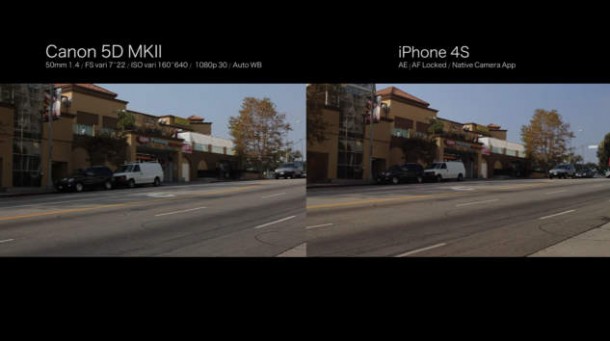 Yes iPhone 4S has impressive video quality, but no way is it ever going to come close to replacing a Canon 5D Mark II.
It's interesting and fun-and-all to compare the two as many have been doing over the past few days, it amazes how far video quality has come in phones. But the iPhone 4S video capability is replacing the basic consumer camcorder, just like it improving photo quality has replaced the consumer point-and-click camera. It really is a big win- you get all of this great capability in one device without sacrificing quality.
The Canon 5D Mark II, on the other hand, is the biz. It's used to make films, television shows. It's a professional grade camera with professional grade features. At $2,499, while not stratospheric given its level of performance (and about a 1/3 the price of the recently released MacDaddy EOS 1D Mark IV, puts it out of range for the casual hobbyist.
It's all fun and games until someone reaches for the Bokeh
Meanwhile we continue to shoot vids here on Stark Insider with a trusty Canon T2i (now mostly used as a 2nd camera angle), and a Canon EOS 60D (the price/performance sweet spot in my books). A quick aside: the new 1D is killer stuff (full frame!) but if I were in the market, I'd seriously consider still getting the 5D and put the difference towards some top-of-the-line lenses. Sure the body is important, but the glass can make or break your results.
Regardless, none of that will stop insanely giddy new iPhone 4S owners who wield their new fast-selling (fastest ever?) uber smartphone as some kind of key to the universe. "What is the meaning of life?" 42. Ah ha! You learn something new everyday. As one recent headline read, you can't be "Siri-ous" Uh… I'd like to be a professional independent film-maker. Mr. Lucas, there's an app for that!
Me? I outright refuse–possibly out of principal now–to move from Android to iPhone. Occupy Closed Systems! I like the idea Android is open, and I like the fact that it's a favorite among the tech-set. I'm also huge into all things Google including gmail, calendar, docs, etc. Oddly, I'm willing to capitulate somewhat- I'm typing this on a MacBook Pro, and I use the iPad to read Businessweek, listen to Pandora. Maybe I'm not so cut out for this revolution thing.
This I do know:
Canon 5D Mark II – serious kit for the serious videographer, indie filmmaker, even television director.
iPhone 4S – less a phone, more an all-in-one app machine. Greetings to those that march to a monochromatic drum.
Video Comparison: iPhone 4S vs. Canon 5D Mark II

Robino Films produced this throwdown, and did a nice job – though it does lack close-ups. With over 434K views it seems many are interested in the comparison. According to the notes on Vimeo it was made using a rig that allowed the filmmaker to use both cameras at the same time. All the settings used are included as well. The conclusion: "This test shows that the tiny F2.4 lens and sensor on the iPhone are pretty nice. It even got a little depth of field!"