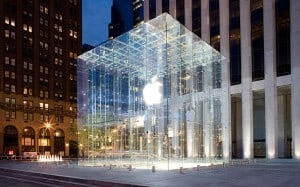 That little green robot in Mountain View might break out into dance any second now. And it's too early to celebrate (after all, you never really win in tech, you perpetually strive to not lose), Google probably has good reason to think its Android OS has a shot at taking more share away from the market leading iPhone. In its latest quarter Apple sold 3 million fewer iPhones than the 20 million analysts expected.
The miss comes at an interesting time.
Its leadership is in transition, with newly minted CEO Tim Cook having taken the reigns from Steve Jobs during the quarter. Obviously, there is no correlation between the miss and the succession. However, it will be interesting to see how Cook responds, most of which will take place behind closed doors.
Then there's Android.
Motorola just re-launched its RAZR brand to much ballyhoo. And Samsung also announced its new Android flagship smartphone (Google Nexus Prime) on the same day.
Everyone's been asking Siri the meaning of life. It might be time to start asking if Apple is vulnerable.
I agree that investors shouldn't panic. Worry, yes. As the market leader, when you miss a sales goal by 15+% you don't tend to sit back and pull out Perry Como's greatest hits. Especially when major product announcements are so far off- the iPad 3 won't land until early 2012, and the next iPhone (really 5 this time?!) should arrive summer.
Was the shortfall from customers who were underwhelmed by Siri and the 4S, and decided to wait another cycle before making a buy?
It could be. And this is definitely cause for concern if you're Apple. Each and every single person that delays a purchase is a potential lost sale. Some will become impatient and buy a Motorola RAZR or whatever other slick Android phone that surfaces before the iPhone 5. Once of the first rules of business we were always reminded of is that if it's not in writing, it's not a deal.
Then again, the 4S launch netted over 4 million pre-orders, and was declared the greatest iPhone launch of all time.
In the late 90s Cisco CEO John Chambers used to talk about healthy paranoia. It was something that always stuck with me during my years on Tasman Drive in San Jose. Of course, it was borrowed liberally from Andy Grove and his "only the paranoid" mantra. In Silicon Valley, you need to keep looking over your shoulder. You might be #1 today, but by tomorrow morning you could easily be selling tacos when everyone wants smoothies.