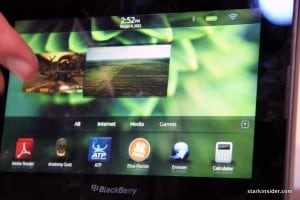 Likely yes. The Playbook has been somewhat of a disaster for RIM. I'm guessing too it's also made for much internal strife. How much of the company's resources do we commit to the product line? How do we compete against Apple? Isn't the tablet really more of a consumer play, or is there really a viable (and profitable) enterprise angle?
Only 200,000 PlayBooks sold last quarter. Compare that to the 9M+ iPads Apple moved in the same time frame.
Worse still for RIM: it's core business, smartphones for business, is under massive assault. Once considered unassailable — all the president's men use a BB! —  the company is hemorrhaging very publicly. Financials, ugly. The company can than the one-two punch of Apple (iOS) and Google (Android) for that. Apple went for premium design, killer content. Google went for open source, competitive price. That leaves RIM out in the Canadian cold (as much as I hate to say that- especially as a former Nortel guy back in the day).
Now word is the PlayBook is toast.
To be clear, the company is denying it. Production is continuing they say.
At the retail level, the price slashing has begun. You can get one for "only" $299. Still overpriced in my estimation. The discounts are too little, too late.
I remember getting hands-on time with the PlayBook back at CES in January. It's an impressive bit of hardware design, and runs QNX OS which does a superb job of multi-tasking and running apps quickly. The tablet demonstrates that RIM can still design really sweet hardware. But the problem is on the consumer side – we all want apps. And we want movies, music, games. None of these have been traditional core strengths for the company. It really needs to partner more effectively in these areas. There's a world of difference (and apparently hurt) between the consumer business and the enterprise business. As we're discovering it looks like it's easier for the likes of Apple and Google to sell to the enterprise than it is for RIM to sell to the consumer.
Tech evolution continues.