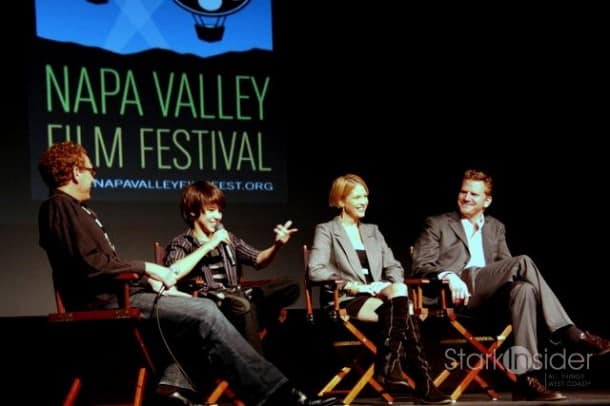 Organizers of the Napa Valley Film Festival (NVFF) have announced that after a three-year slumber, the center formerly known as COPIA will be opened as a screening venue and Festival Welcome Center for the fest.
Located in downtown Napa, NVFF attendees will enjoy this rare opportunity to see films in the comfy 260-seat theater and sample Swanson Vineyards' award-winning wines before each screening.
The NVFF is the first organization to utilize the building since its closure in 2008. COPIA was a non-profit discovery center whose mission was to explore, celebrate, and share the pleasures and benefits of wine, its relationship to food, and its significance to culture. Vintner Robert Mondavi, and his wife Margrit Biever Mondavi were instrumental in founding the center when the idea was discussed as early as 1988.
The inaugural NVFF runs five days, and will feature more than 75 films (narrative features and shorts, documentary features and short subjects, world cinema, student shorts) with over 250 directors, filmmakers and industry executives in attendance.
Two additional films were announced today: THE WAYS OF WINE and KUMARE.  Each film follows the journey of a man facing challenges to his personal identity and seeking answers, but in very different situations.
More on the Napa Valley Film Festival:
A complete film lineup will be available Oct. 1.
Previously, organizers announced that the festival will be covered by Billy Bush and the Access Hollywood team who will "spend the weekend dashing though the NVFF communities, popping up at the opening night gala, VIP lounges and everywhere that celebrities are having fun."
"We're so excited to host Billy, one of the funniest men on the planet, and his great Access Hollywood team here at our inaugural NVFF Festival," says Co-Founder/Director Brenda Lhormer. "We have a sneaking feeling Billy's going to enjoy drinking with the celebs, cooking with Michael Chiarello at Bottega and generally having one hell of a time."
Margrit and Robert Mondavi Winery will host the NVFF Opening Night Gala on Thursday, November 10.