Film. Food. Wine. Not a bad combination. Add Napa to the mix as the stunning location and you're really off to the races.
The new Napa Valley Film Festival brings all that and more when it lands in wine country November 2011. As a preview, organizers have announced a special three-day launch celebration that takes place next month (Nov. 12-14) offering  special sneak preview screenings, extensive Q& A sessions, pre-film wine tastings, after-parties and exclusive food and wine events with the attending filmmakers.
Marc Lhormer, who co-founded NVFF with his wife Brenda, took some time to speak with Stark Insider about the festival including updates on what we can expect, some of the goals, and what it's like pulling together a film festival. Marc was also a producer for the entertaining film Bottle Shock (about the 1976 Judgement of Paris) so he may even have a wine recommendation or two in this interview!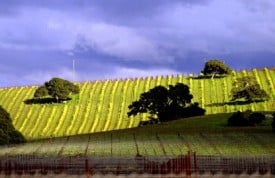 Serendipity in full swing, I first met Marc last year at Stag's Leap Wine Cellars, one of the famous wineries that helped the up-start Napa wine-makers beat the French in 1976. We shot an interview on that day with Loni and Marc against the gorgeous backdrop of vineyards, rolling hills and a small lake. It was an unforgettably glorious Napa day. The pinch-me-this-is-too-good-to-be-true kind. I always know the type; I end up with a red glow from a day of sun, and my body is completely at peace, humming in a state of numbed bliss. Or something like that… you know what I mean! Let's just say it's better than waiting in line at the DMV.
Stark Insider Podcast
Featuring: Marc Lhormer, co-founder Napa Valley Film Festival
Listen now:
When it comes to independent film, Northern California continues to grow in influence , and now even larger productions (Stone, Conviction, 127 Hours) use the region to jockey for Academy Award nominations.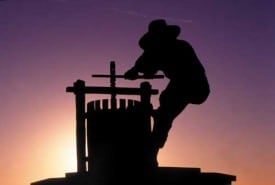 The hugely successful (40,000 in attendance) 33rd annual  Mill Valley Film Festival wrapped over the weekend and included appearances by A-listers including Annette Bening, Edward Norton, James Franco and Sam Rockwell. This weekend the Berlin & Beyond Film Festival kicks off in San Francisco (with an encore day scheduled for San Jose).
Already in full swing is the Silicon Valley Jewish Film Festival (through Nov. 13). Earlier we had the Carmel Art and Film Festival and the San Francisco Film Festival. And, of course, early next year we're all looking forward to the 21st edition of the Cinequest Film Festival in San Jose.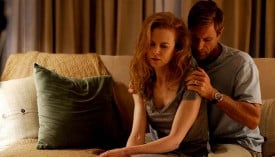 The NVFF Launch Celebration, which takes place November 12-14 in Napa and St. Helena, presents the Napa Valley premieres of John Cameron Mitchell' s RABBIT HOLE, starring Academy Award winners Nicole Kidman and Dianne Wiest and Golden Globe  nominee Aaron Eckhart; Lexi Alexander' s indie drama LIFTED, starring Dash Mihok, Ruben Studdard (of " American Idol" fame) and singing sensation Uriah Shelton; small-budget charmer THE HAPPY POET, featuring writer/director/star Paul Gordon (a SXSW favorite); Derek Cianfrance' s BLUE VALENTINE, an Entertainment Weekly " must-see" starring Ryan Gosling and Michelle Williams; and I AM, an exhilarating documentary of self-discovery by Tom Shadyac (Bruce Almighty, The Nutty Professor).
The first international film festival for the Napa Valley, NVFF will take place in November 2011. Showcasing the best of new independent cinema while embracing the epicurean pleasures of Napa Valley, NVFF will debut with a five-day extended-weekend festival spread over four of the valley' s postcard-perfect towns: Calistoga, St. Helena, Yountville and Napa.
The Inaugural Napa Valley Film Festival (NVFF) Launch Celebration

SCHEDULE AND TICKET PURCHASE INFO

Friday, November 12:

4:00 p.m.
Wine and Cheese Pre-Reception
Caldwell Snyder Gallery, 1328 Main Street, St. Helena
Featuring wines by Salvestrin (2009 Estate Sauvignon Blanc, 2005 Estate Cabernet Sauvignon);
cheese by Robert Deakins (courtesy of Oliver' s Market); and water by Volcanic

5:00 p.m.
Pre-Screening Wine Tasting
Cameo Cinema, 1340 Main Street, St. Helena
Featuring wines by Astralee Terra

5:30 p.m.
Napa Valley Premiere of RABBIT HOLE with special guests to be announced
Cameo Cinema, 1340 Main Street, St. Helena
Tickets: $30 each; admission price includes pre-reception and pre-screening wine tasting

8:00 p.m.
Pre-Screening Wine Tasting
Cameo Cinema, 1340 Main Street, St. Helena
Featuring wines by Astrale e Terra

8:30 p.m.
Encore Screening of RABBIT HOLE
Cameo Cinema, 1340 Main Street, St. Helena
Tickets: $20 each

Saturday, November 13:

1:15 p.m.
Pre-Screening Wine Tasting
Napa Valley Opera House, 1030 Main Street, Napa
Featuring wines by Raymond Vineyards

2:00 p.m.
Napa Valley Premiere of LIFTED with director Lexi Alexander and cast in attendance
Napa Valley Opera House, 1030 Main Street, Napa
Tickets: $15 each

4:15 p.m.
Pre-Screening Wine Tasting
Napa Valley Opera House, 1030 Main Street, Napa
Featuring wines by Raymond Vineyards

5:00 p.m.
Napa Valley Premiere of THE HAPPY POET with director/star Paul Gordon in attendance
Tickets: $15 each

7:15 p.m.
Pre-Screening Wine Tasting
Napa Valley Opera House, 1030 Main Street, Napa
Featuring wines by Raymond Vineyards

8:00 p.m.
Napa Valley Premiere of BLUE VALENTINE with director Derek Cianfrance in attendance
Napa Valley Opera House, 1030 Main Street, Napa
Tickets: $15 each

10:30 p.m.
The After-Party
Oenotri and Gordon Huether Gallery, 1425 First Street, Napa
Featuring wines by Terlato Wine Group and water by Volcanic
Tickets: $20 with purchase of one Napa Valley Opera House movie ticket

1:00 a.m.
The After After-Party
John Anthony Wine Lounge, 1440 First Street, Napa

* Tickets subject to additional booking fees

Sunday, November 14:

4:30 p.m.
Pre-screening Wine Tasting
Napa Valley Opera House, 1030 Main Street, Napa
Featuring wines by Terlato Wine Group

5:30 p.m.
Napa Valley Premiere of I AM, with director/subject Tom Shadyac in attendance
Napa Valley Opera House, 1030 Main Street, Napa
Admission: $15 each