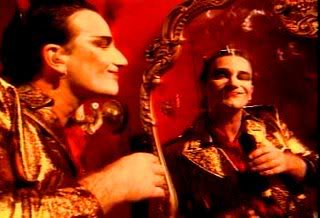 For us U2 fans, October is shaping up to be a memorable month.
Showtime today announced it has acquired the rights to From the Sky Down, a documentary about the band and the making of its landmark album Achtung Baby. Mark your calendars: the doc premieres on Oct. 29, just after it premieres at the Toronto International Film Festival (is that monumental now or what?!).
Has it really been twenty years!?
U2 aficionados will recall (perhaps over-zealously like me) Achtung as the album that re-invented the band — a band, I should note, that didn't necessarily need re-inventing. Remember this was the 1991 album that followed the massive, bigger-than-big milestone that was The Joshua Tree. I always remember Bono signing off New Years' 1989, the close of a decade, and the close of the band's somewhat gospel- and grassroots-inspired sound (i.e. American Music, like B.B. King):
Bono told the audience at the end of that show that it was "the end of something for U2" and that we need to "go away and just dream it all up again."
'Zoo Station,' a sonic kaledioscope that sounded nothing like anything before it, opened Achtung Baby just a few years later.
I was just floored.
It was 1992. From that day forward I set my CD changer to automatically play the album every morning — it was even better than the real alarm clock. Such an odd sound! Electronic, reverberating. The videos that aired at the time featured a psychedelic Bono adorned in leather, with large "Fly" shades, and spinning in 3D. Baby, it was cool. To those that see U2 as safe, adult contemporary now, remember this: it wasn't always that way.
From what I understand the creative process to get the album made was anything but conventional. So it will be interesting to see this additional footage and listen to these previously unseen interviews. For my money, Achtung Baby is possibly the greatest album of all time, and any additional insight we can glean from its epic creation is welcome in my books.
Those looking to re-create their own U2 history in advance of this upcoming doc should do a few things:
— watch the live performance of Bad at Live Aid (1985) – this was the making of a superstar, mullet and all, eons before Twitter, before Facebook… heck even before the Internet and YouTube.
— listen to B.O.W. – Boy (1980), October (1981), War (1983) – that's what angst, rage sounds like from the war-torn streets of Ireland. No autotune. No star turns. No holding back. It's raw, unadulterated; and it embodies the soul of real, "edge"-y rock.
— watch It Might Get Loud (you can read my review here) featuring The Edge – Dude: tune your ears and senses to the wonderland that is U2's sonic DNA!
— experience Zoo TV y'all – the best example being U2's 1993 performance in Sydney, Australia, an epic gift to the world. Mr. MacPhisto anyone?! 5 out 5 stars. Brilliant. Watching it on pay-per-view in Ottawa left a monumental impression on this lad.
— and — of course — load up your iPhone with the Achtung Baby mp3 album, and wake up each morning to the real thing.