I'm not sure if you're supposed to look like Peter Pan when you have a noose around your neck and are being hung on stage, 10-feet in the air.
As far as auditions go, I have to admit, though, that Loni does give it her all. But will she win the part of the evil producer, Sidney Bernstein?
Curtains (more information) is a full scale Broadway Musical now being staged by Foothill Musical Theatre nestled just below the rolling, curvy Los Altos Hills. Never one to miss possible bedlam and pandemonium I immediately took the cast up on their offer for a behind-the-scenes look at the dramatic stunt that leaves one actor hanging as the audience heads to intermission.
As  Jaime Martinez, who plays the evil producer, says, "As the curtain comes down, I go up!"
Another fascinating element of this production is the extent to which the cast and crew have gone to replicate the Broadway experience within the intimate confines of the Lohman Theatre. "We have ropes coming in, pulleys coming in, and sand bags flying in." director Jay Manley explains to Loni.
I admit: I was more than slightly amused to watch Loni dangle high above the stage with a noose around her neck — working together so much can sometimes bring enjoyment out of small moments of terror. But little did I realize how much energy she'd have up there. So much so that she was warned to stop waving her legs and feet so much, lest she bring the whole set crashing down.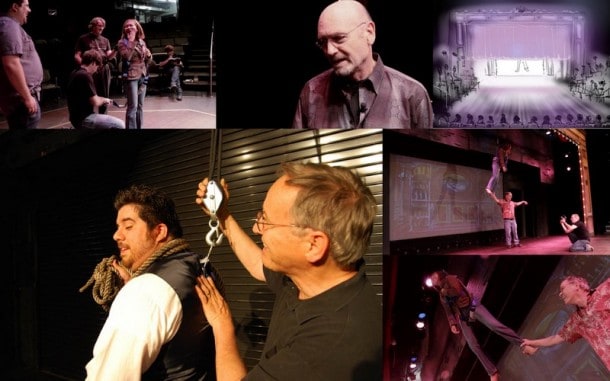 This is community theater at its best. I kindly urge you to get on out there and — as I like to remind myself — put down that PS3 controller and iPad, and support the performing arts. Who knew a whodunnit musical could be so vibrant, so entertaining. One of my goals when we started Stark Insider theater coverage back in 2009 with The Kite Runner at the SJ REP was to try to cover as much theater in the San Francisco Bay Area as possible. Big, small. Funny, sad. Shakespearean, absurdist. My goal is to help (however small) close the gap in coverage due to cutbacks in traditional media. Tweet us. Facebook us. And help us continue this ridiculous little mission to forever change the face of hyper-local arts coverage, for better or worse. I never thought it would be the hardest thing I'd do in my life, but it's a drop in the bucket compared to what all of these wonderful artists, performers and volunteers do to bring such joy to our lives. Let the show begin… Clint.