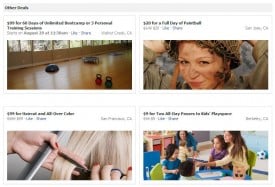 Here's some of the top stories on this, the last Monday of August. Also, fair warning: Christmas retail promotions are imminent. With the state of the economy being what it is, retailers know all too well that seasonality helps; especially one that makes us smile, sing songs, and … spend money.
Maybe saving money is not better with friends: Facebook axes deals
Titans of Tech 2.0 are learning that size alone don't guarantee market success. Google's bombs include Buzz, Wave (and the jury is out on Google Plus, their new social networking site) and arguably their rocky entry into the Web retailing business with the Google Nexus smartphone in 2010. Facebook is quickly learning this lesson too. First the company quietly killed off Places which was their check-in service aimed at competing with Fourquare. Now, they've axed Deals. So much for taking down Groupon.
"We think there is a lot of power in a social approach to driving people into local businesses," Facebook added in the statement. "We've learned a lot from our test and we'll continue to evaluate how to best serve local businesses."
Meanwhile, Groupon continues to prep for a $750 million IPO scheduled for later this year.
Google-
Not everything about Google Plus is positive. The social network has added an ignore button. Don't want to hear about Steve Jobs again? You can ignore that user who incessantly posts those animated gifs and tribute videos. The feature is aimed at mimicking real life social interaction.
"Ignoring someone is basically saying you're just not interested," wrote Google engineer Olga Wichrowska. "Maybe you don't know them or maybe you don't want to see what they're sharing."
Young women leading social media charge
If you think social media is the province of gadget-hoarding teen boys, think again. A recent report reveals that young women are leading the charge. Pew, who commissioned the report (based on a survey of  2,277 adults), calls young adult women the "power users" of social-media sites.  Overall, 69% of women on the Web said they use social networking, compared to 60% of all men.