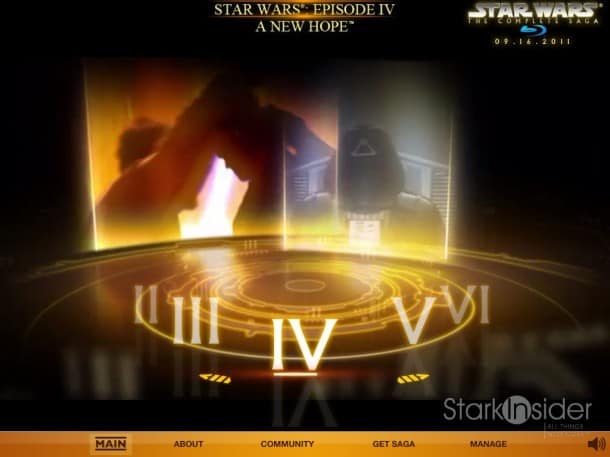 Star Wars fans everywhere already know that hell freezes over this September. That's when Lucasfilms will finally (finally!) release the franchise onto Blu-Ray (9 discs! Lossless 6.1 DTS-HD Master Audio! 40+ hours of special features!). Until then, you can enjoy an advance preview on your iPad.
Like the saga itself, expect the results to be mind blowing, with plenty of effects and pomp and circumstance. After all this is perhaps the biggest sci-fi event of all time since the original SW first amazed movie goers in 1977 – then, recall the disappointment as many strolled into Blade Runner expecting a Harrison Ford driven sequel?
A few clips including interviews, and an inside look at some of the magic that went into making the films are now available in a preview app (i.e. extended, interactive commercial) available now on iTunes for your iPad.
It's a free download, and is a good teaser of what's to come.
Content is organized by episode. Of course, I skipped directly to "4" (call me a slow learner, I still can't get used to calling Star Wars "episode 4" or "A New Hope" … come on now!) . There I was able to watch a neat little video about the landspeeder and learn about the choices Lucas made to ensure the actors were still prominent while driving it.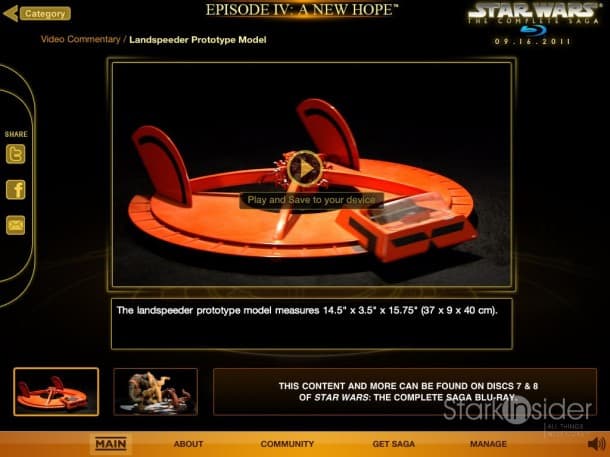 Don't expect a lot of depth here. It should take you less than half-an-h0ur to scrub through all the content (I'm not sure if more is planned for the app). It may also remind you once again why Han Solo is so much cooler than the testosterone-challenged Luke Skywalker. But the real heroes here are the creative staff that bring this legendary story to life – thanks to them, it's a galaxy worth re-visiting time and time again. And thanks to the iPad it's not that far away after all.
Bonus material will reportedly include never-before-seen content sourced from the Lucasfilm Archives including: prop, maquette and costume turnarounds; matte paintings and concept art; and interviews with cast and crew.
Star Wars Blu-Ray is scheduled for a September 16, 2011 launch.
iTunes link: Star Wars Blu-ray: Early Access