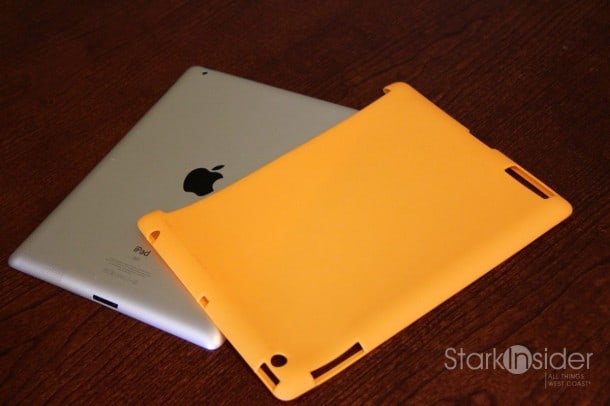 We see a lot of gadgets and accessories pass through the offices here at Stark Insider, and since the quality pool is all over the map I tend to prefer to write about the good ones. Case in point: this cover for the back of the iPad 2. Is it going to change your world? Probably not, but this is one of the better covers I've seen.
For now I'll sidestep the potentially messy question as to whether the gorgeous aluminum finish and Apple logo should ever be covered to begin with; this, dear fanboys across this great nation, is a personal preference. As is the color – seen here in a burnt orange (or maybe that's popsicle orange?). Blame Clint for that one – he was trying to match the SI logo, and the feeling of "west coast." Instead what I see – especially when looking at the front – is akin to a Lamborghini finished in burnt orange on black leather. With the edges of the orange HyperShield against the black bezel of the iPad, others might just see: Halloween. No worry, CoverShield is available in 10 other colors.
The cover is well made, and it slips on snuggly. Appropriate cut-outs are in place for the speaker, camera, and various connectors.
I had no issue with the location or quality of the cutouts. One thing that differentiates this cover, and a reason why it warrants a recommendation is that it's made of TPU (Thermoplastic Polyurethane) which gives it a pleasing gel like feeling to the touch. You won't see any low quality plastic edges here, as you can tell from the photos.
Another bonus: the cover works hand-in-hand with Apple's own ingenious Smart Cover. The colors are also designed to match.
I much prefer a HyperShield + Smartcover combo to some of the bulkier options out there. Sure it's simple. but it's also slim (1.4mm thin), feels good to the touch and is reasonably priced at $19.95. I'll leave it up to you if you're an aluminum showboat or a scratch avoider.
HyperShield Back Cover for iPad 2

5 out of 5 stars

Colors: Grey, Blue, Green, Orange, Pink, Cream, Tan, Black, Navy, Red plus an additional "Clear" color

$19.95

www.hypershield.com