Does the world need yet another iPad case, mount or stand?
If there's one segment that has grown ridiculously fast over the past year the accessory market for the iPad has got to be near the top (aside from Zynga and Apple itself that is). A veritable cottage industry, no doubt. And why not, the iPad is going gangbusters and there's a hefty profit margin to be had by selling these endlessly creative add-ons.
Case in point: this Breffo Spiderpodium Tablet.
Differentiating feature: Cunning, spider-like moves. Signature move: Cloaking your iPad in a rubberized grip of certain death — albeit comfortable and stable.
The packaging clearly states, "This is not a toy." However, after fiddling with the eight legs and bending them all directions for five minutes you might feel like you're assembling some sort of 3-D Escher for toddlers.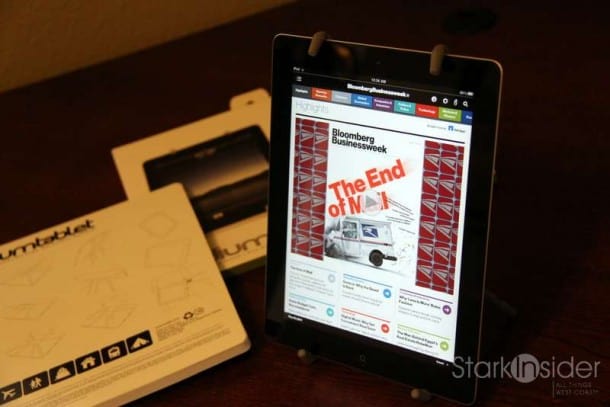 This stand is unique, but rapid assembly is not one of its core strengths. I felt somewhat out-smarted, before eventually getting it to hold an iPad 2 seen here in the photos. Once I did get some cooperation positioning the legs around the edges of the iPad's display, the feisty grey spider proved to be quite handy. It's flexible design means it can be easily positioned at just about any angle or height. Moving the stand across a desk is quiet and smooth (if that sort of thing is important to you). The stand is well-made and I couldn't imagine it not withstanding some pretty rugged use. A tent, for example, is just one of eight icons along the rear of the packaging that suggests the Spiderpodium would be a decent travel companion.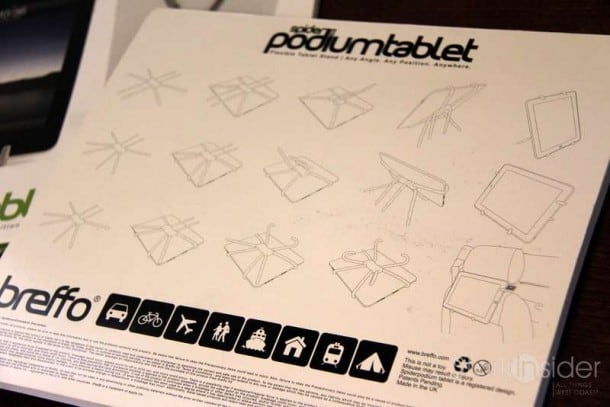 So what to make of this stand?
We get a lot of these coming through our offices, and it seems there is no lack of imagination when it comes to iPad stands. It's not great for users that constantly move their iPad across multiple locations quickly or use their iPad on a couch. I did find it most useful as a stable desktop holder, where the rubberized feet gave it plenty of stability. Obviously, this stand won't provide any protection for your iPad as it's not meant to be a cover.
Breffo Spiderpodium Tablet

Stand for iPad / iPad 2
3 out of 5 stars
$34.99