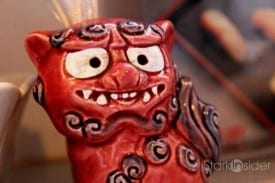 When I first met Loni she simply went as "sushiweakness". I was just a steak (filet/rare) and beer (Orangeboom) kind of guy. Times indeed do change. Now I'm more apt to go for sashimi than red meat.
One of my all time favorite pairings is champagne and sushi. Try it some time, in the words of Homer Simpson "I'm not normally a praying man, but if you're up there, please save me, Superman!"
Loni wrote about her adventure at Oxbow Public Market in Napa and her dreamy sushi lunch experience. Now, here's the video segment so you can see all that fresh fish in living, breathing, color-corrected color.
In case you're wondering, Oxbow refers to the u-shaped device that keeps two oxes tied together. Ox … bow. You may not have known the name, but you can probably visualize it.
If you're in Napa, though, Oxbow refers to a mecca of artisans and purveyors of gourmet foods. According to Oxbow CEO/founder Steve Carlin, this is just the tip of the iceberg for downtown Napa.
"What's happening in Napa is really unprecedented for this community," he says in this Stark Insider TV segment. "I think that the Morimoto restaurant is probably going to do as much for Napa as Thomas Keller (French Laundry) did for Yountville."
Point of defense: yesterday Loni wrote that I put too much hot sauce on my duck taco at Oxbow. For some reason, I just love — kill for it, kind of love — hot, hot sauce on certain dishes. Combined with el Diet Coke, it's the stuff of legends. Sure, I always end up panting like a mad dog, eyes watering like Niagra, And yet, for some reason, I always pile on the picante. I like horror films, Loni doesn't. Celebrer la vie!
PS – when did fish markets start getting ISO certified? I thought that was just for manufacturing/tech/software… I have so much to learn…
Bonus outtake: how the heck does one get decent latte art?!
Production Notes

For those following along on the DSLR journey which started when I upgraded our rig to a Canon T2i DSLR back in February of 2010, here's some of the things I've learned so far:

Shooting video on a DSLR such as the T2i (or T3i, EOS 60D, Nikon D700), even run 'n gun, is now mainstream – twelve months ago, if you showed up to a shoot with a DSLR (and not the conventional pro camcorder rig) you'd get odd looks. Not any more.

There is not auto-focus, though. So for us it means cutting out the parts where I'm re-focusing on the subject. At times it means some shots are slightly out-of-focus. To that I say with a Neil Young drawl, "That's just my style, man."

Audio is king. We've come a long way. Now we shoot with separate audio and sync in post-production. It takes more time, but it's worth the effort. In this Oxbow video, however, we shot entirely with a shotgun mic (and that's why there is so much background noise). Quick recommendation: Rode Videomic. Brilliant kit.