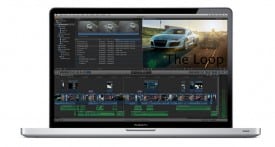 Earlier this week I wrote about the new Adobe Premiere Pro 5.5. Mostly a bug fix and stability improvement release (with some minor new features), I wondered if it was worth the upgrade. In the end, for me at least, it's a definite yes, as anything that reduces the occasional crash, and speeds performance is always a good thing when it comes to getting videos through the hopper.
But then along comes Final Cut Pro X — with that very cool new name — just announced at NAB (National Association of Broadcasters) in Las Vegas. It's a complete re-write of the twelve-year old video editing software that has made Apple and the Mac famous within Hollywood circles. Granted X is not the full-blown package (Final Cut Studio, $999), but at $299 (available in June) it's competitively priced for those not cutting $40 million features, and likely includes enough for what we do on Stark Insider.
Some of the new features I've been reading about give me pause: advanced people and shot detection, automatic audio cleanup, automatic color matching between clips (nice!), a "magnetic" timeline (for sync), background rendering, among many other technical whiz-bang goodies (64-bit, can utilize 8 cores, over 4GB of RAM, etc.).
So: Is it time to make the switch from Adobe Premiere Pro (on a PC) to Final Cut (running on a Mac)?
Hard to say. It is tempting. Perhaps, though, the grass  is grener on the other side, and I should continue to ride the ADBE train. Last year, I made the switch, at least on my laptop. I bought a MacBook Pro to replace my aging but rock solid (and heavy) Lenovo ThinkPad. While I did miss the small red nub (trackpointe) I absolutely love the MBP, especially the display which has stunning levels of contrast which results in far less eye fatigue through the work day. Running Final Cut on it, and then upgrading the studio PC to a Mac seems very doable. One concern, of course, is learning all over again… I wonder how hard it is to learn the edits, the timeline, and the general interface on Final Cut when moving from Premiere Pro?
From time to time I also use After Effects which is included as part of the CS5 Master Collection. Occasionally I use Soundbooth too. Having those modules integrated with Premiere is convenient. I also read on the ADBE web site about the "Warp Stabilizer" feature in AE 5.5 which automatically removes camera shake. That I'm anxious to try.
Meanwhile my research continues… to switch or not to switch…?
Photo: Courtesy The Loop.