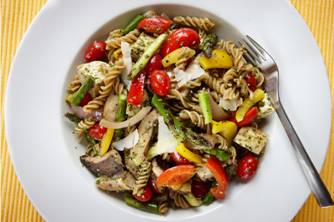 With spring finally here, it's time to celebrate a little. And what better way to enjoy the sun and warmer weather than with a pasta dish with fresh vegetables.
Many of you who've been following my culinary adventures here on SI know that I'm a huge fan of this so-called "farm-to-table" craze. I'm also big on the idea of sourcing sustainable, locally grown vegetables where possible, and, in fact, belong to a weekly farm service (Live Earth Farm: Joining the ranks of community support agriculture).
So I introduce you to: Fusilli Pasta with Spring Vegetables.
I chose this recipe because I like that it has a nice healthy dose of vegetables. In this case, asparagus, eggplant, zucchini and some peppers. It's easy to make, but best of all it's light and healthy fare. No deep frying, folks! Bad, bad, bad (yes, Clint, that includes In-N-Out burger). The recipe calls for it be served hot, but I'm guessing it would be equally delicious — maybe more so? — as a cold plate. Just a thought.
Another reason why I like this recipe is that I can grab several of the ingredients right from my own vegetable planter in the yard. I grow tomatoes, basil, herbs, and (thanks to Clint's fondness for all things spicey) a decent amount of peppers too. Maybe not farm-to-table, but at least it's "yard-to-table".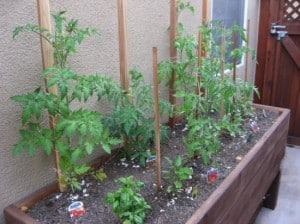 Other recipes you might like:
Finally, what would a nice pasta dish be without a nice wine pairing?
Serve this with Clos du Bois Chardonnay ($11.99) or Clos du Bois Sonoma County Merlot ($14.99).
Happy spring, and don't forget to enjoy this with family and friends. The more the merrier! Let me know how it goes, and if you have any advice or ideas for changing it up.
Fusilli with Spring Vegetables

Ingredients

1 lb. fusilli pasta
2 Tbsp. butter
2 Tbsp. olive oil
1 medium onion, finely chopped
1 garlic clove, minced
1/4 lb. slender asparagus, cut into 1-inch lengths
1/2 red bell pepper, cut into 1-inch strips
1 small zucchini, cut into 1-inch strips
1 small Japanese eggplant, cut into 1-inch strips
1 C. Chardonnay
1 C. fresh basil leaves, chopped
3 Tbsp. tomato paste
1 tsp. dried thyme
1/4 tsp. pepper
1/2 C. grated fresh Parmesan cheese, plus additional cheese for garnish

Directions

Cook pasta according to package directions. Drain in a colander. Transfer to a large bowl or deep platter.

While the pasta is cooking, heat the butter and olive oil in a large skillet over medium heat until the butter melts. Add the onion and cook, stirring often, until tender, about 5 minutes. Add the garlic and cook 1 minute. Add the asparagus, bell pepper, zucchini and eggplant and sauté until almost tender, about 5 minutes. Add the wine, 1/2 cup of the basil, tomato paste and thyme; stir to mix well. Bring to a boil, reduce heat and let simmer until vegetables are tender, 5 to 7 minutes. Pour over the pasta; add the Parmesan, remaining basil, remaining 1 teaspoon of salt and pepper. Toss to coat evenly. Serve with additional Parmesan. Serves 4.

Serve with Clos du Bois Calcaire Chardonnay or Clos du Bois Sonoma County Merlot