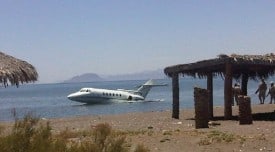 Now we know what happens when you end up crash landing your non sea-ready plane into the Sea of Cortez.
It floats! And still looks remarkably cool — in a James Bond, Spy Who Loved Me kind of way.
According to a report, the private jet was attempting to land at the southern runway at the Loreto International Airport and for unknown reasons ended up in the waters just outside the Loreto Bay resort.
Miracle on the Salinita
Fortunately, no was one was hurt. The two men aboard the aircraft, both Mexican nationals, reportedly "suffered no injuries."
The Civil Aviation Authority took the men to the airport and presumably an investigation will ensue as to why the Hawker 700 H25A found its way into the sea.
As if right out of a script, a group of kindergarten children were nearby on the beach at the time, and notified the police.
For those that have followed our Loreto Baja adventure here on Stark Insider will know that we started building a home in the Loreto Bay resort over five years ago. The ups and downs of the development are too numerous to recount, but the local economy, including the development, appear to be on the upswing once again.
Our little home, aka Casa del Lagarto Azul (again invoking images Ian Flemming like escapism thanks to Loni's vivid naming imagination), was completed last year, and we've since visited and stayed twice. I like to tell people how beautiful the area is, how friendly the people are… but I realize at times the more I do this, the more likely our little secret is to get out to the masses. We last thing we want is for this area to become a built-up Cabo-like sprawl.
The only question now: what's the used market like for a private jet with minor water damage?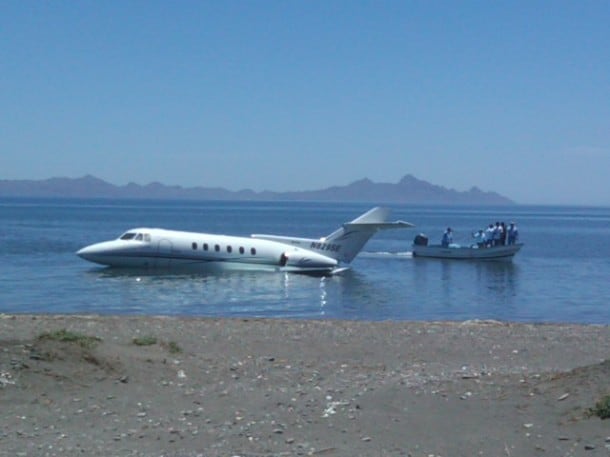 [radarpolitico.com]