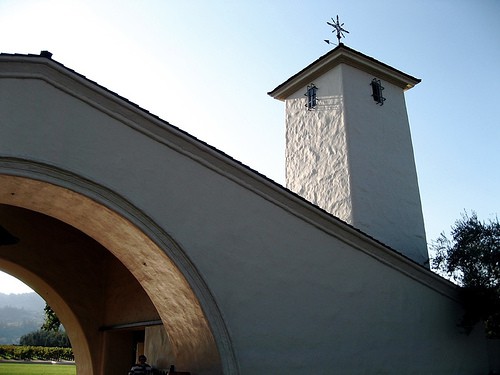 It's always a good day when you get to taste Mondavis – and here's tasting notes on three of their latest, a 2009 Fumé Blanc Reserve (and a blend) and 2008 Cabernet Sauvignon.
The patriarch of wine himself, Robert Mondavi, is a legend, of course, and every time I handle one the bottles – his signature emblazoned across the label – I get historic chills. Kind of like Christopher Walken in The Dead Zone. I see the Vintners Hall of Fame (at the Culinary Institute of America in St Helena); the iconic entrance to the winery with its simple and classic mission/mediterranean-like architecture; and feel the short history of Napa dance across my mind like Astaire and Rogers.
But a lot of that has changed.
Almost seven years ago Mondavi was acquired by giant Constellation Brands in a $1.3B deal – yes, it can take a bit of the family sheen off the story. Constellation also owns Kim Crawford, Clos du Bois, Franciscan, Estancia and hundreds of others including some from South Africa, Canada, Australia and across Europe. So, you get the idea, they're big. FY11 sales for Constellation (NYSE: STZ) were $3.3B. (for those keeping score that's probably about $3.3B more than Twitter).
A quick aside on their discount brands Woodbridge and Coastal. I know there has been some controversy in the past about diluting the Mondavi name by offering these lower tier labels (some as low as $7 per bottle) at retailers such as Trader Joe's, Costco, Bevmo, etc. While I can understand the need to ramp volume, and move cases, I agree that it does hurt the image. That can have long-term consequences. Maybe we're already feeling them today – the name Mondavi, at least to me, doesn't connote the premium feel like other Napa brands do: Silver Oak, Conn Creek, Etude. I'm just one guy, and perception is as slippery as the voles I continue to hunt down in our yard, but branding and positioning are sacrosanct.
On to the wines then.
We received two Fume Blancs (a reserve and a non-estate blend) and a Cabernet Sauvignon. Here's my take on the wines.
2009 Robert Mondavi Fumé Blanc Reserve, Estate ($40)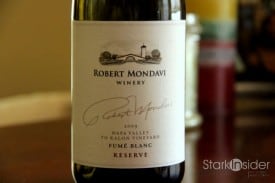 My favorite of the lot is this crisp, herbal white. On the dry side, which suits me well. I'm not a huge Sauvignon Blanc fan, so this was a pleasant surprise. I often feel that drinking a SB is like drinking water with a flower and some grass stirred in (and a chunk of melon for good measure) – this is especially true of those from New Zealand. But I know people that simply love that, so to each their own. The grapes for this Fumé Blanc (Sauvignon Blanc and Sémillon) are sourced from the grounds of the Oakville winery.
98% Sauvignon Blanc, 2% Sémillon
1,867 cases
14.2%
$40
Stark Insider rating: 93 points ** Highly Recommended **
2009 Robert Mondavi Fumé Blanc, Napa Valley ($20)
This one is also good, but there's less concentration in flavor, so you end up with a lighter wine. Not necessarily a bad thing, just different. That's likely attributed to the face that only 30% of the grapes from the To Kalon Vineyard.
90% Sauvignon Blanc, 10% Sémillon
13.8%
$20
Stark Insider rating: 90 points ** Recommended **
2008 Robert Mondavi Cabernet Sauvignon, Napa Valley ($28)
A little too young, too bright. A slight disappointment for me. There's just too many other Cabs at or around this price point that do better. I recently opened up this Mondavi and tasted alongside an '03 Tenuta Cab to see how the boutique winery would do against the corporate giant: Cellar aging comparison: '03 vs. '08 (or "How to avoid getting your hand chopped off"). This is what I'd call fruit forward. Very forward. Black cherries, for sure. Lots of dark fruits, and heavily concentrated. The problem is balance and restraint. It's just not one of my favorites.
85% Cabernet Sauvignon, 7% Merlot, 5% Cabernet Franc, 2% Syrah, 1% Petit Verdot
15.3%
$28
Stark Insider rating: 85 points