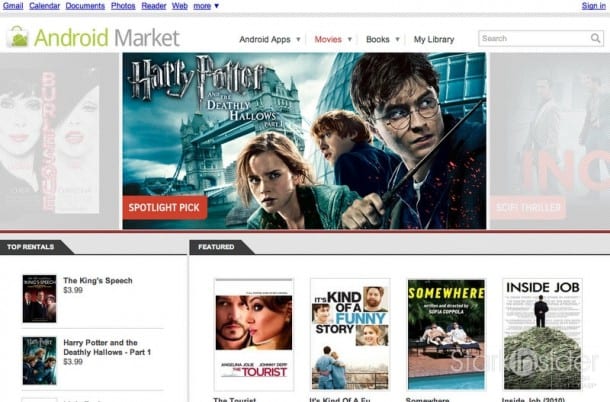 At Google's annual developer conference, Google I/O 2011, here at the Moscone Center in San Francisco, Google made several announcements this morning. The keynote focused on three themes: Momentum. Mobile. More. Vic Gondotra, Sr. VP of engineering, walked on stage and recounted the "humble beginnings" of Android with the T-Mobile G1 smartphone on "one device, one country, one carrier."
The biggest news so far is Google's entry into the movie rental business that will put the company into competition with Netflix, Amazon and Apple iTunes most notably. Starting today a new movies tab will be available on the Android Market with titles starting at $1.99 for 24-hour rental. You can access the service via a standard web browser at market.android.com.
Other announcements so fare include an upgrade to Honeycomb (to 3.1), the OS version designed for tablets such as the Motorola Xoom. Google also announced that it would bring all of the Honeycomb features — such as the holographic UI and advanced widgets — to its next Android release dubbed "Ice Cream Sandwich". The release is targeted for Q4.
There are now 350 Android devices in 112 countries. Google reports that they are activating over 400,000 Android devices every single day. Yes, talk about momentum… Android is no doubt come very far, very fast — and recently according to reports has passed RIM in market share.
Below is a quick summary of what has been announced so far today on day 1 of Google I/O.
Honeycomb 3.1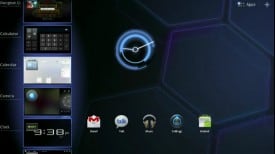 Upgraded task switcher – you can now switch through multiple open applications.
Enhanced widgets – widgets can now be expanded horizontally and vertically.
Enhanced USB support – Android devices can now act as USB host. This means that a camera can be connected directly to an Android tablet for example. Other possibilities include joysticks, controllers, etc.
The upgrade will be rolling out to Xoom 3G users over the coming weeks.
Honeycomb comes to Google TV this summer
Google TV will also be getting the Android Market. Developers will use the same development process (SDK) when they develop for Google TV as they do for other devices.
Android "Ice Cream Sandwich"
Targeting Q4 launch for the next, "Most ambitious" Android release. Key theme: Choice (phones, tablets, variety of sizes) – "We want one OS that runs everywhere" – taking Honeycomb features (holographic UI, widgets, etc.) and making them available in the Android OS.
Movie Rentals on Android Market
Starting today, users can now rent and stream movies on the Android Market. Prices will start at $1.99 and be accessible via a "movies" section of the Android Market. The rental period is 30-days with a 24-hour window once the rental is started.
Music Beta by Google
Google is also entering the cloud music business. Music Beta enables users to upload music files into the cloud and then access them from various Android devices. The demo looked similar — almost identical in fact — to the Amazon Cloud Player service released a few months earlier.
Music Beta is being rolled out in phases. Initially it will be available to US users via invitation only (sound familiar?). To request an invitation go to music.google.com/about