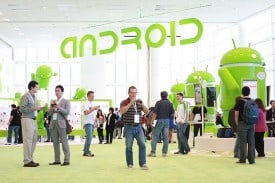 The big news here on day 2 at IO is Google Chrome OS – and the devices call "Chromebooks" that run it. The new operating system is now available and finally here, after what seems like years of hype and promotion (and a pilot program that involved an odd, old-school laptop given out to developers).
Thank goodness something interesting happened this morning. I was starting to wonder if the future of the human race somehow revolved around Angry Birds and getting it to run on every single device. Forget space travel. Forget curing cancer. We want Angry Birds!
Okay then, what's the deal with the Google Chrome OS?
Essentially it's the Chrome Web Browser. Since we spend most of our time on the Web it (potentially) makes sense that the OS itself be based around that same metaphor. The Web is the thing.
Another way to look at: Chrome OS and Chromebooks are the next stage in low cost computing, a revolution first started with the Netbook.
A new built-in file manager also runs via the browser in a new tab. There is no such thing as a "desktop" in the Chrome OS – everything is done via the browser.
So those worried about Flash, take heart:  "We've worked closely with Adobe to ensure a seamless flash experience."
These things boot fast. According to Google the new devices will start-up in only 8 seconds. Better still, they eschew the concept of patches or upgrades. Instead, like web apps in general, they constantly benefit from new features, and improvements without the user needing to manually install updates.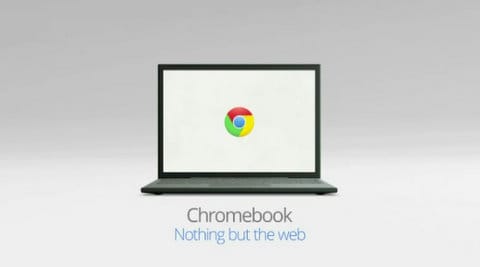 It's all about the cloud, or "Nothing but the Web"
Chrome OS could not exist without the cloud. The idea of having all your data stored in the cloud is central to the concept of a lightweight operating system that can run on notebooks and netbooks that would otherwise be underpowered to run full-blown Windows 7. The opportunity for educational markets, developing countries and non-profits is huge.
Working Offline.
Because the Internet is not always available, Google has worked hard to make sure major apps will work offline. The big ones mentioned today include Gmail, Google Calendar, and Google Docs.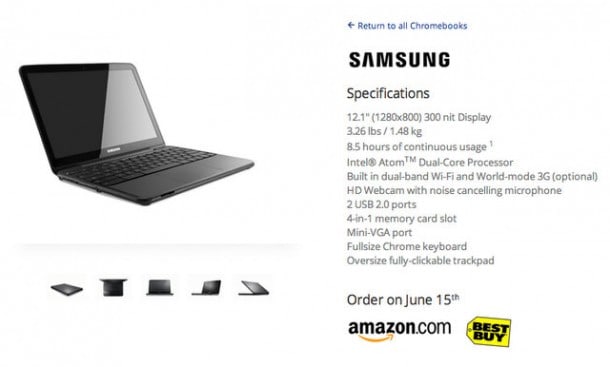 Chromebooks.
Several vendors are launching Chromebooks, devices specifically designed to run Chrome OS. Google provided sneak previews including models from Samsung ($429) and Acer ($349).
To my eyes at least these are repurposed Netbooks re-packaged to run Chrome OS. The price point is similar, as are the form factor and processor (Intel Atom). For vendors, perhaps this was a great way to off-load all that unsold Netbook inventory.
The devices will be available online on June 15 from Best Buy Online and Amazon.
Chromebooks for Business.
Google also launched a monthly subscription that aims to "fundamentally change computing for businesses." Called Chromebooks for Business the plan is available for $28 per user per month ($20 for educational institutions). The plan includes the computer, maintenance, and also a hardware refresh at the end of the product lifecycle.
These too will also be available from June 15, directly from Google.
Who should use Chrome OS?
Well, it might be easier to say who would not want to run it. Power users will have no interest in the OS. You can't run Adobe Creative Suite for instance, or other graphics intense apps such as Autocad or games such as Portal 2. They will want to stick with a full-fledged OS such as Mac OS X or Windows 7.
But Chrome OS is perfect for those looking for a simple, web-based computing experience. If you love the cloud, and find yourself spending time doing things such as email, social networking, and listening to music, then it could be ideal. Things like Google Apps and the new Music Beta are nicely integrated.
One twist though. The Tablet is here – aka iPad. So if I'm looking to buy a second lightweight, mobile solution to complement my workhorse laptop or desktop, I'm going with a tablet, not a Chromebook.
They say: The web is what you make of it…
I say: Scary thought!
Noteworthy

For the second day in a row, Google IO attendees got some nice free swag. On Day 1 it was a Samsung Honeycomb-powered tablet. On Day 2 it was a Chromebook (but not yet available until June when Google says they will ship it to developers).

How do you build an army of developers? Give them free stuff. Feed them. Shower them with love. And, most importantly, let them keep the lion's share of profits – Google takes 5% while Apple, for example, takes a 30% royalty for iTunes apps.

Google is talking home automation and appliances… shades of Cisco?! … does this mean Google is getting too big, too successful?