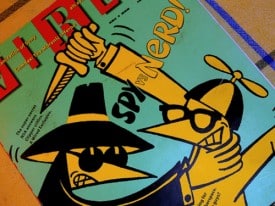 Trash talk works in sports, for the most part it's a healthy part of the game. But does it belong in business?
I'm no Luddite (I read the WSJ on a Galaxy Tab!) or prude (I've even been known to watch Weeds!), and yet a story I read this morning on TIME (Facebook Hires PR Firm to Plant Negative News About Google) gave me pause for thought. I should note that Dan Lyons broke the story on The Daily Beast.
Talking smack is one thing, but what if a company (Facebook, no less) hires a PR firm with a mandate to aggressively recruit writers and bloggers to write negative "op-ed" pieces about a competitor (Google). Does this cross an ethical line, or even, perhaps a legal one?
You can click through the link above for the editorial on TIME or Lyons' piece on TDB, but I need to include some of the content here – it's too juicy and rife for critique. I'm not sure this is necessarily a massive shock — what, a company behaving badly?! Still, it's a slippery slope, and perhaps demonstrates the small corruptions and errors in judgment that lead large organizations down a path towards massive, wanton wrong-doings. Then again, maybe I'm getting a little ahead of myself and am feeling somewhat edgy on this, a Sharks game 7 morning.
It all started when a blogger received an email from a PR firm (Burson-Marsteller) proposing he write a negative op-ed piece on Google.
"Mr. Soghoian,

I wanted to gauge your interest in authoring an op-ed this week for a top-tier media outlet on an important issue that I know you're following closely.

The topic: Google's sweeping violations of user privacy. Google, as you know, has a well-known history of infringing on the privacy rights of America's Internet users. Not a year has gone by since the founding of the company where it has not been the focus of front-page news detailing its zealous approach to gathering information – in many cases private and identifiable information – about online users.

…

(more details on the topic)

…

I'm happy to help place the op-ed and assist in the drafting, if needed. For media targets, I was thinking about the Washington Post, Politico, The Hill, Roll Call or the Huffington Post."
This is one committed PR guy! He's willing to even "assist in the drafting" of the piece.
Smelling a bit of the fuddy-duddy, the blogger, Chris Soghoian, asked who was paying them. The PR firm would not divulge the source. But Dan Lyons, no stranger to finding himself at the center of exposes, discovered it was indeed Facebook, a fact confirmed by a company spokesperson. Lyon writes:
Like a Cold War spy case made public, the PR fiasco reveals—and ratchets up—the growing rivalry between Google and Facebook …

The mess, seemingly worthy of a Nixon reelection campaign, is embarrassing for Facebook, which has struggled at times to brand itself as trustworthy. But even more so for Burson-Marsteller, a huge PR firm that has represented lots of blue-chip corporate clients in its 58-year history.
Admittedly, this is not the first time the press have been used as a tool for propaganda, and assuredly it won't be the last time these types of escapades are exposed. Many blogs and web sites write features, reviews and stories on products, travel destinations and restaurants that are pitched by PR firms. Shills? Perhaps, especially if criticism and objectivity are lacking in the pieces.
But this is Facebook, one of the largest most influential tech companies on the planet.
Plus, the company and COO Sheryl Sandberg should know better. If you really want to wreak havoc, everyone knows you just hire a cadre of mommy bloggers.
I wonder, who inside the company came up with the idea- that they would use some of their stock-piled billions to fund a smear campaign, operating via alleged "op-ed" pieces? Freedom of the press… or capitalism run amok?
[TIME]
[The Daily Beast]
[Pastebin – for email exchange]
Photo: Anthony Catalano, Flickr.