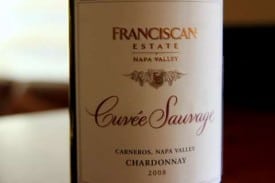 How wild, just exactly, is this Chardonnay from Franciscan Estate in Napa Valley?
Well, it's actually quite restrained and elegant. A great pairing wine. It's really the fermentation process that is "wild." This Cuvée Sauvage is winemaker Janet Myers' take on uncultured yeast. In other words they don't add yeast, instead letting nature do its thing As she notes, "we simply fill the barrels with juice and wait."
That the grapes (Dijon clones) come from Carneros is a big time bonus in my books – the cool region located in the southern part of Napa Valley, on the way to Sonoma, produces some fine lots of Pinot and Chardonnay.
So what does this all mean for you and me, wine-lovers that we are?
Well, for one, it makes for a unique wine experience. Because the yeast is wild, there is perhaps less human intervention involved in the making of this Chardonnay. I hate to say it, but it could result in a better reflection of the terroir. Often, like in this case, it can mean a wine with more interest and more layers.
Another thing: it makes for a superb pairing wine. In fact, I think I'd only pop open a Cuvée Sauvage if I were pairing it.
When I tasted through the Franciscans in '09 I also tasted the '06 version of this wine. I wrote, "More mineral (which I prefer) provides crisp and refreshing finish." I didn't find the '08 as crisp, especially on the finish. Ever so slightly different character. Still nice, just not quite as clean.
I've also included below the seared salmon recipe by Chef Cory Strike. I haven't tried this recipe yet myself, but I did get to enjoy the seared salmon when Cory prepared it for us on a recent tasting visit – we started with this Cuvée, and it once again re-affirmed my belief that it's a mighty fine pairing wine. Try it, and let me know what you think.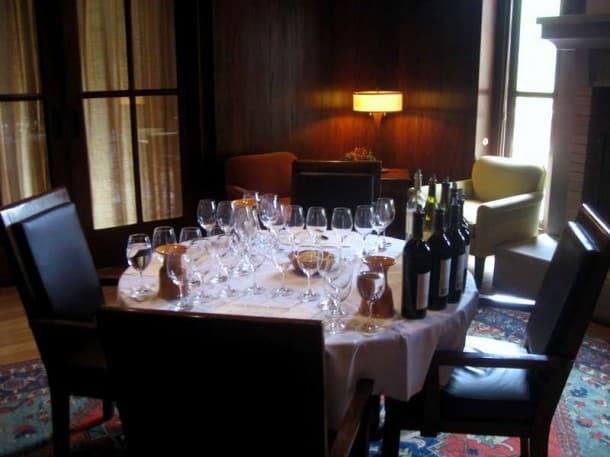 Tasting notes: nice balance of minerality with some (not too much though!) creaminess courtesy of the 14-month aging (100% French oak, 86% new oak). On the nose you get light tropics: green apple, citrus notes. The finish lingers a bit more than I'd like which is why I really recommend it as a pairing wine. 100% Chardonnay. 1,448 cases. $40.
PAIRING RECIPE: SEARED SALMON

Seared Steelhead Salmon with Sauteed Pea Shoots, Apple wood Smoked Bacon, Oyster Mushrooms and Warm Sherry Vinaigrette

Recipe by Franciscan Estate Chef Cory Strike

Serves 4

4- 6-ounce fillets Steelhead Salmon, skin on
½ lb. pea shoots
6 strips applewood smoked bacon, diced
1 lb. oyster mushrooms
3 Tbs. sherry vinegar
2 shallots, minced
¼ cup Italian parsley, chopped
3 Tbs. Extra Virgin olive oil
salt and pepper to taste

Directions:

In a non-stick saute pan, cook bacon until crispy and drain on paper towels. Pour off excess bacon fat, reserving 2 Tbs. for later.

Heat the same pan to very hot and place seasoned salmon fillets skin side down. Once skin is crispy, flip the fillets and cook top sides for one minute. This will result in fish that is cooked to medium. Remove fish from pan and keep warm. Pour off any liquids from fish and add reserved bacon fat back into pan.

Return the pan to the heat and add oyster mushrooms, cooking over medium until lightly browned. Add pea shoots, wilt quickly and add bacon. Remove pan from heat and season mixture to taste with salt and pepper.

To serve, divide bacon, pea shoot and:mushroom mixture among four plates. Place a salmon fillet on top of each, skin side up. Return pan to heat and warm to medium. Using sherry vinegar, deglaze the pan, using a wooden spoon to scrape up any bits from the bottom. Remove from heat and add shallots, parsley and olive oil. Spoon warm vinaigrette over salmon and serve.