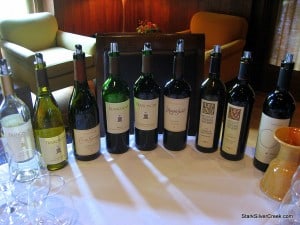 Our expectations and excitement level were high as we departed San Jose on a cool and sunny morning to head up to the Franciscan Oakville Estate in St. Helena. 9 high calibre wines from a well regarded vineyard awaited a half day of tasting.  And although I was quite certain there would be gems, you just never know with these things.
Emilie, of Icon Estates, set-up the tasting for us and was a gracious, knowledgeable and welcoming hostess. She took us a tour of the estate vineyard out-front, followed by an in-depth look at their 250,000 case production facility out back and the cavernous and never-ending barrel rooms. We have the video coming soon featuring Loni and Emilie. 
But for now, we're talking about the wine here. And just wine. No food pairings. Just the pleasures of sitting for a few hours, tasting and discussing.
The room was just perfect, and I'd suggest for anyone serious about enjoying their tastings, to book in advance at one of the Franciscan private tasting rooms. Wood beams extend across the ceilings along with hardwood and stone detailing. A fireplace sits quietly in the background, while bright sunshine streams across the vineyards and into two stately windows adorning the far wall. In the middle, a simple round table with four comfortable chairs. Front and center: lots of wine, from Sauvignon Blanc and Chardonnay all the way to Meritage and Cabernet Sauvignon.
So how did the wines fare?
In a word: excellent. Franciscan was solid across the board with a couple of standouts. Also, considering the price range is $18-50 (with one $100 bottle), these won't break the bank but still deliver that premium Napa experience.
Whites
2008 Sauvignon Blanc  – this is only Franciscan's 2nd vintage of the varietal, and it is not yet estate grown. It was decent enough. I'm not a huge Sauvignon Blanc fan to begin with and this was typicall herbaceous. Loni enjoyed it. $18 (86/100)
2007 Chardonnay, Napa Valley – wonderful Napa chard nose, rich and deep aromas. A classic Chardonnay at a very reasonable price. I enjoyed this one. I liked the lighter sensation on the finish. A good one for spring and summer. $18 (89/100)
2006 Cuveé Sauvage Chardonnay – deeper color than the '07 Chard, and with fuller, richer flavor, probably due in part to the 15 barrel aging using new oak. More mineral (which I prefer) provides crisp and refreshing finish. Interesting pop of flavor with slight spice which I enjoy, an unexpected surprise. $40 (90/100)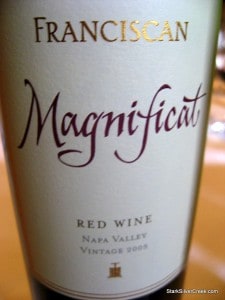 Reds
2005 Merlot – aged using two thirds American oak, this Merlot was middle of the road for me. Decent, but not memorable really. The fruit was somewhat muted, and it had a smoothness which makes it an easy drinker. For me, I like more bold fruit, spice and tannin. Others may disagree. $22 (87/100)
2005 Cabernet – softer than what I'd consider a traditional Napa cab, though perhaps not in a bad way. It's another smooth drinking with wonderful aromas of blackberry and hints of chocolate and some spices. Again this is good. Maybe needs some aging to develop fully. For those looking for a lighter, easy Cab, this would be a good pick. $28 (88/100)
2005 Magnificat – a standout. This is Franciscan's Meritage, that mysterious label in the style of a French Bordeaux. Now over 200 wineries produce a Meritage (rhymes with 'heritage'). This is one of my favorites. Full body, tremendous flavor all the way through. Finish is just absolutely elegant: chocolate, plum, spice. Wow. Wonderful. Had to have more! $50 (93/100)
2005 Stylus – part of the limited release series, here is another full bodied Cab. I like the structure thanks to the tannins. But never overly so. Would pair well with duck or juicy ribeye. On its own I like it, but might be too much for some, depending on your preference. Aged almost entirely in new French oak for 24 months, you can tell immediately that this is special. $100 (92/100)
The Verdict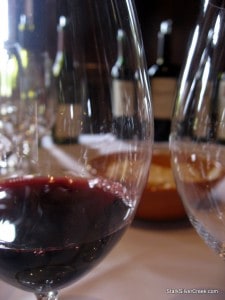 I was impressed across the board with Franciscan. It's testament once again to how far Napa wine has come in only 4 decades; there are no bad apples here. Take your pick and you're rewarded with high quality, immediately drinkable wines. The two stand-outs for me were the Magnificat and the Stylus. The Stylus is a special wine, and given its price would be a monthly wine perhaps. And the Magnificat showcases what the sometimes confusing allure of a Meritage is all about. Interesting, complex, vibrant. Every mouthful an adventure and just so enjoyable. 
Stay tuned for a winery profile from Loni on the grounds, the tasting room, the vineyard, the private tasting rooms and the 250,000 case production facility and barrel rooms. We also have a video segment in the works for 'Wine Tube'.